LA based composer, singer-songwriter, multi-instrumentalist, producer. As a percussionist, I specialize in African, Cuban and Brazilian drumming. I've lived in Togo & Ghana, West Africa, Habana & Matanzas, Cuba and Bahia, Brazil. I've played with Papa Ladji Camara, Mustapha Tetty Addy, Changuito, Giovanni Hidalgo, Los Papines and Afro Cuba.
Africa is the source. Having a deep understanding of traditional African music and all of it's variations around the world, allows me a unique perspective and skill set as a percussionist and producer.
Because of this experience, I can essentially play any type of hand or stick drum, any pattern simple or complex, with a variety of feels, both non-Western and contemporary.
**I have top of the line recording equipment (Bock, Neumann & AKG mics, Manley pre-amp, Lavry Blue converters) and can guarantee a full, high resolution sound for remote sessions.
Specific drums & percussion are:
West African - djembe, dun dun, sambang, kpanlogo, kutiro and talking drum.
Cuban - congas, timbales, cajon, bongos, shekere, palitos, guiro, clave and more cow bell.
Brazilian - surdu, atabaque, repanique, pandiero, agogo, caxixi, rainstick.
North African - darbuka
Miscellaneous - shakers, bells, toys, found objects, and whatever else the song needs.
**African kora - 26-string harp from West Africa. All diatonic modes.
**Male Vocalist - Smooth and resonant tenor. Trained and proficient in Classical, Jazz, Folk, Rock. Love harmony. Pitch range G2 to C5.
**Acoustic Guitar - finger-style in the Blues, Folk, Leo Kottke and Alex DeGrassi style. Open tunings.
**Producer - produced on over 50 records from singer-songwriter to World music, New Age meditation to Electronic/EDM.
Click the 'Contact' above to get in touch. Looking forward to hearing from you.
Credits
6 Reviews - 1 Repeat Client
Endorse Tom Rossi
Tom is very talented. Very good sound, fast and reliable. He gives suggestions and helps to create the perfect patterns for your tracks. Thank you.

It It sounds like authentic African drumming as opposed to an american playing a djembe. Tom was fast and reliable. I hope to work with him again

Excellence in the form of percussion =Tom Rossi

Tom is an incredible percussionist who needs very little direction. He does things as required but goes beyond expectation, works fast!

Awesome work, satisfied!!!
close
World-class music and production talent at your fingertips
Browse Curated Pros
Search by credits or 'sounds like' and check out audio samples and verified reviews of top pros.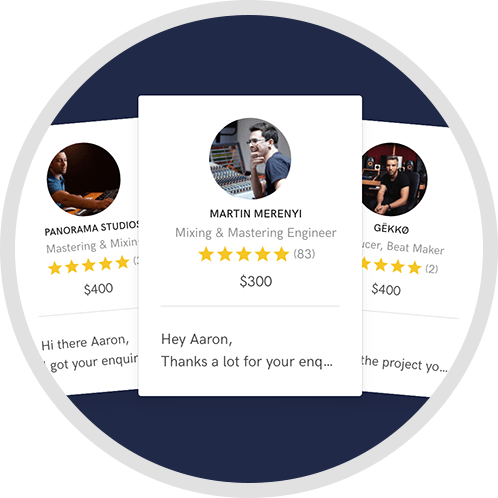 Get Free Proposals
Contact pros directly with your project details and receive handcrafted proposals and budgets in a flash.
Make Amazing Music
Fund and work on your project through our secure platform. Payment is only released when work is complete.