Industry Standard Quality is all I know. Be Different. Be Creative. (Kanye, Usher, Chris Brown, Tyga, Brandy, Sean Kingston, 21 Savage). I have knowledge that I want to share with you. Come learn with me and Raise the Bar of Quality to the next level!
While assisting Legendary Mastering Engineers Eddy Schreyer & Gene Grimaldi I worked on many projects over the course of 11 years at Oasis Mastering. Some of the albums I'm proud to say I assisted on include:
>Kayne West Debut album "College Dropout"
>Lady Gaga "The Fame"
>Christina Aguilera "Self Titled" Debut Album
>System of a Down "Toxicity"
>Vanessa Carlton "Be Not Nobody"
>Akon "Trouble" and "Konvicted" plus many more between 1998 and 2010.
Meanwhile I was signed to an Independent Label Under Atlantic Records as a Producer for a few years where I was put in the studio hands on with artists like Usher, Brandy, Tyga, Ammerie, Ashanti, Melissa Ethridge, Chris Brown and J Lo. At the moment I am releasing music independently through Syft Music under producer alias Bodo where I specialize in Future Bass, Trap and Urban Pop. Its important to stay connected to a young fan base to keep up with the current technology that can make your music sound better.
I have my own studio in North Hollywood with gated parking that is avail for sessions.
I'd love to hear about your project. Click the 'Contact' button above to get in touch.
Credits
99 Reviews - 22 Repeat Clients
Endorse Riley Urick
Riley added beautiful instrumental production that perfectly fit the mood and vibe of this song. It's all the little tiny details that make the song so special.

Riley is so easy to work with. I really like the way he makes my vocals sound with tuning and fx. I've done multiple projects with him now and hope we can continue to work together for a very long time. He has great ideas and the skills to make them happen.

Riley, has great sensibilities musically and good vibes. He makes the most out of any vocal line and really knows how to adjust each part to it's maximum potential. I have done several songs with him so far (many of which are getting a lot of play on online radio Jango). I am looking forward to the next and the next.

Riley did it again! He really added his mastering magic to this record and in such a quick time, as well! Thank you, once again!

Riley is a great producer, he understood my vision for the song and added the elements that I wanted. His sound is dope and he masters in recording and editing vocals. Highly recommended!! Will be going back.

Working with Riley was great! He was patient and responsive with adjustments but also able to add a different perspective to the mix from the original concept.

Riley knows how to bring the best out in my voice. He has great suggestions and knows how to bridge the difference between old school influences and modern music. I'm always so happy to work with him.

Cool and professional work with Riley, he gave the pristine sound the track needed. Worked on my suggestion without complain.

Riley is incredible! Dude delivered a mix I am 100 about.. despite the many edit requests.. I appreciate you man. Let's smash the next one now..

Great experience working with Riley again!
This is the second time, and not the last one! :)

One of the best results I experienced on mastering service!
Riley made an Incredible Job, my tracks sound powerful, and shiny!
so so happy with his work

I will repeat!

It was great working with Riley! He was very receptive and on point with all of the adjustments I asked him to make, and his own creative touches were subtle but dope. He also responded to messages and finished everything in a very timely manner. Super talented mixing engineer who I would absolutely recommend!

This job was the third and forth songs Riley has done for me. I hope to work with him again and again. He brings ideas to life! We recorded vocals, then he edited and tuned them. (I am not the best singer in the world, I know my limitations.) I think it sounds awesome! He really takes the time to get just the right pitch, harmony's, and rhythm. He also did the production on both songs which I absolutely love! They are two very different songs and he captured the vibe and emotion perfectly. *****

What a great guy and super understanding. I would truly suggest anyone to work with him :))

It was an amazing experience working with Producer/Mixing Engineer/Musician Riley. Riley is an old soul with lots of mixing and production experiences. He turned my great songs into timeless future/modern hits. The bottom line why I choose Riley because: his work is the future in mixing, Not only because he is highly experience and professional because he does his research, he listens, he communicates with you in detail and he never quits until song goal is accomplished.

Riley did it again! He understands what each track needs.

Riley did a great job on my tracks and it was done quickly. Will definitely use again

It was great to work with Riley again. This is my first time recording vocals with him. We recorded each part several times then took the best parts for a composite vocal. He added effects with delay and reverb. I really like the way it turned out. I hope to work with him on future projects.

Riley was super dope to work with on mastering my demos. He's super attentive on what needs to get done, and goes beyond the call of the gig. I hope to work on more tracks with him in the near future!

Riley is exceptional!! He was very quick and very responsive, extremely patient with me, and executed my ideas/vision for the song so beautifully!! He took my song to a whole new level! It was such an honor to work with him! And I can't wait to work with him again!!

Riley did it again! Always great working with him

Riley did an incredible job! He was professional and really pays attention to quality.

Riley has been great to work with, very fast and super excited about what he is working on, I am already working on my next song with him.

I loved how enthusiastic and fast Riley was with my song and how professional he kept things.Def will do another song with him.

Riley is so patience, kind, dedicated and amazing!!! Just one demo and he nailed it already! Looking forward to our next song!!

Riley was super kind, quick and very easy to work/communicate with. Superb job!

Another Awesome mix by Riley. Everything was spot on, interprets my music correctly every time.

Riley was easy to work with.
I had a lot of revisions and changes, but he handled them all well.

Riley is absolute professional! Very friendly and he feels how to mix and master track properly . I advice him to everybody who wants to enhance music to the maximum level!

Absolutely amazing experience! Professional, passionate, patience, and super kind. Riley's fantastic taste and magic touch totally brings the song to life! Can't wait to start a new production with him!

P.S. All the young talented musicians, trust me, Riley is the man!

Very professional, friendly and knows his stuff.

Riley is a great engineer, patient, and super easy to work with. My masters sound perfect I feel like I got more than what I paid for. Thanks!

Working with Riley has been brilliant. His work is impressive and helped to uplift the quality of my album. He was helpful, professional and turned in content on time. I look forward to working with him in future.

Riley's work is amazing, HIs profile speaks for itself. Easy to get along with and appreciates music. Will definitely use again for future projects.

Riley is really professional and awesome guy to work with. He did an amazing job on my track! I strongly suggest him!

Riley is the real deal! Enough said. Mixing / Mastering and anything else you can possibly do with audio, he's your guy!

Riley was great to work with. He completed the work well in time.

Exactly what I was looking for!!! Thank you!!! 🙏🏼 Can t wait to work with Riley again!!!

Riley did a great job with mastering my song and doing exactly what I requested. He got the job done efficiently. I highly recommend him!

Riley has a keen ear and creates spot-on professional mixes and masters. He clearly knows what he's doing, and is also easy to work with. I hope to work with him again in the future.

Thanks to Riley's fast and professional work! And being very patient to my revision request. Definitely will love to work with him again!

Riley understands what needs to be done. Very professional and creative!!! delivered flawless track! thanks for the help!

Riley destroyed the track. In the best way possible.

Riley took my idea for a song and gave it a better beat than I was even thinking! Very professional, very quick, would definitely hire again.

Amazing master and finish on our track, quick, professional, will definitely be following up with him again!

An absolute pleasure to work with I'm so glad I found him!!! Such a professional sound and fast turn around. Delivered what he said would and delivered it on time!!

Quality, fast and really really on point!

Very professional mastering! Will work again with Riley, sure!

Had a very difficult track with Riley and he was really patient, very talented and always over deliver!! Creating something new and dope that always surprise you

Riley Understood to perfection what I was trying to do with my project. he is extremely professional and a great guy to work with. I would def recommend for anyone out there looking for mix and master work.
I will def be looking to work with him again!

He catered to me and did what I asked with what he could, what above what most would and charged a reasonable price for it.

Riley is as professional as it comes, as he is easy to work with and satisfies all your needs!! Definitely going to work with him again!!!

I love what Riley did with my song. I gave him a a song that was recorded with a band. It wasn't in time. He fixed all the timing of the tracks and delivered a really cool Tropical House remix. I love the new groove to the song, it is so danceable!

First time working with Riley and let me tell ya this guy is the real deal! Such amazing skills, will work again in the near future. :)

Riley is very professional, a great communicator and his initiative was second to none.

Riley delivered a well-balanced mix and conceptual mastering and was easy in communication. Will definitely work with him again!

Riley was quick to communicate, produce results and everything in between.

Riley did a superb job at bringing out the intensity and flavor of my track. A truly skilled artisan and highly recommended.

I had an EP mastered by Riley and he was very cooperative and overall did a good job. I would hire him again.

Quality Job and on time! Look forward to do more work with you

Nice full and balanced mastering! Riley is easy to communicate with. Well worth the investment; Highly recommend.

Riley did a really great job on the song. It was exactly what I was looking for. He kept the vibe and dynamics of the song while making it loud. Highly recommend.

Fast, easy to communicate with, and gave me options for my master. Would definitely use him again.

Wow !!! Amazing hi quality mastering service !!!

I had a great experience working with Riley. He was very professional, and gave me some options to choose from. Highly recommend him!

Working with Riley was very easy and satisfying. He listened to my music and understood what it needs, then he showed me alternatives to choose from. Quality of the work really shows he is an expert in the art of mastering.

Great quality mix! I got the record back in good time and it was exactly what I was looking for .

Great work and fast turnaround

2 for 2!!!! I had a great experience again. I'm ready to do my entire album with Riley Urick now.

The boy made another banger for me!

Quality work and very Quick. Was so happy when he gave my song new life. I highly Recommend Riley!!

Amazing results in lightning fast speed!

Love making hits with my boy Riley! His production game is like no other.

Had a great time working with Riley! Really bettered my track!

NEVER DISSAPOINTED. COMING BACK FOR MORE.

He is GOTTI in the Studio. He mixes and when you hear it from a thousand miles , you like to penetrate through your devise to hug him . He is G.O.A.T . A real definition of mastery.

He is a smart intelligent supernatural engineer 😍who's talent and skills when executed on your music brings out that missen aroma hidden in it. This is my second time and I'm so satisfied with the level of classy is my music coming from his magic fingers. Calculative engineer like Albeit Einstein 😁

Riley was perfect. His work was timely and professional! He communicated very will with me and got my song sounding awesome. Looking forward to working with him more!

turns my track into mainstream heat Quality Master he provided

MOGUL MUSIC ENGINEER
SUPER skillful Professional engineer.
I will call him the Magician because he thrilled me with such a high standard quality I actually never expected to find on this website.If anyone told me that sound better host such brilliant competitive engineers,It would be too good to be true :-D BUT hey I am a witness

Homie reworked my song and turned it into heat!!!

He worked fast and sent me the quality of work I needed for mastering. I recommend.

Riley Is one of the most Avid Producers I've Ever Worked With. He cares about his clients and their vision. He doesn't slack and really gets the job done for the sake of the bigger picture. 100% Talent and Hard Work!

Riley you have been amazing. Will recommend you to all my peers. Look forward to doing more.

Riley is super pro and reliable
Good ear for pop , clean mix ,
Will definitely work with him again

Ready to progress in my dream so it's reality. 2k 18 my year!! I'ma make it lit!

Riley is on the top of his game! His mastering helped me to step into record labels, pr companies and our collaboration has been the quickest procedure and a great experience too! All positive...!

Riley is very easy to work with and produces quality work. This is my second time working with Riley and he really takes the time to get just the right mix of sounds. Plus he makes some sick beats!! I hope to work with him again soon on another project.

Great professional! Would like to work with him again for the next project, sure!

Very professional mastering. Highly recommend. Will work for new projects again with Riley!

Wow wow wow. This guy is a PROBLEM.!! When i say Riley is a PRO, you better believe it. He added life to my premix, added little touches that connected everything.. now we talking to radio stations, labels, and more.

Riley is the mother f****** truth

Click this link to hear the record we did together

https://youtu.be/cdyGjK-jqao

Riley is so sick talented! Super awesome guy, honest, creative, the talent is on a billion! This kid will make the production and the mix RADIO ready!

Riley is one of the best in the business!!

Really made my record pop, added elements to the song that I would have never thought of adding myself. I truly recommend this guy if you're looking for a quality sound.

Riley took my mix to the next level!!

After hearing just the first mix, 2 labels immediately offered me record deals.

Now Riley is mixing my whole album. The man is the truth.

getting riley to working on my mix is a gift.
love the quality he brings to the table

I make music under the name of Colby Keaton, along with producing and mixing. I contacted Riley to master my project and was blown away by his fast response times and precision when working on my 5 song EP. I will definitely be working with him again!!!

Riley's one of the most talented produced I've ever worked with. If you need that radio top 10 hit record sound then hire this guy.
Interview with Riley Urick
Q: Tell us about a project you worked on you are especially proud of and why. What was your role?

A: I won an ASCAP award for best Original Music in a TV Series with a song that i did with Kelly roland and Ruben Studdard for Real Husbands of Hollywood.

Q: What are you working on at the moment?

A: MattyBMusic, Lukas Rieger, Empire (Tv Series), John Legend, Chris Brown,

Q: Is there anyone on SoundBetter you know and would recommend to your clients?

A: Tempo Stokes

Q: Analog or digital and why?

A: Digital because you can create a analogue sound with digital

Q: What's your 'promise' to your clients?

A: I will deliver

Q: What do you like most about your job?

A: Everything

Q: What questions do customers most commonly ask you? What's your answer?

A: Customer: You got some bangers? Me: Yes!!!

Q: What's the biggest misconception about what you do?

A: Producers aren't beat makers, Producers finish an entire production all the way to mastering.

Q: What questions do you ask prospective clients?

A: How big is the session? What Genre is your Music? What vibe are you trying to create?

Q: What advice do you have for a customer looking to hire a provider like you?

A: Be Prepared and Give me as much information about the project as possible

Q: If you were on a desert island and could take just 5 pieces of gear, what would they be?

A: Mac Laptop, Mbox, Nueman u87, Ns-10s, Midi Controller

Q: What was your career path? How long have you been doing this?

A: Music is and always will be my passion and career since I graduated Los Angeles Recording School in 1998

Q: How would you describe your style?

A: Dynamic, Sonically thought out fusion music

Q: Which artist would you like to work with and why?

A: One Republic because they give you the ability to create something Huge and thats what I like to do most.

Q: Can you share one music production tip?

A: Create you own sounds and be unique. Never limit yourself

Q: What type of music do you usually work on?

A: Popular Music, It can be any genre as long is it appeals to a mass audience

Q: What's your strongest skill?

A: Producing and Mixing

Q: What do you bring to a song?

A: I give songs full use of their Dynamic Range.

Q: What's your typical work process?

A: There is no typical work process in my book

Q: Tell us about your studio setup.

A: Control 24 Desk with all DAWs, Good sized production room with Isolation booth

Q: What other musicians or music production professionals inspire you?

A: Timbaland, Ryan Tedder, Flume, Dr Luke, Dave Pensado, Bob Marley

Q: Describe the most common type of work you do for your clients.

A: Producing songs for major artists has been a majority of my career
close
World-class music and production talent at your fingertips
Browse Curated Pros
Search by credits or 'sounds like' and check out audio samples and verified reviews of top pros.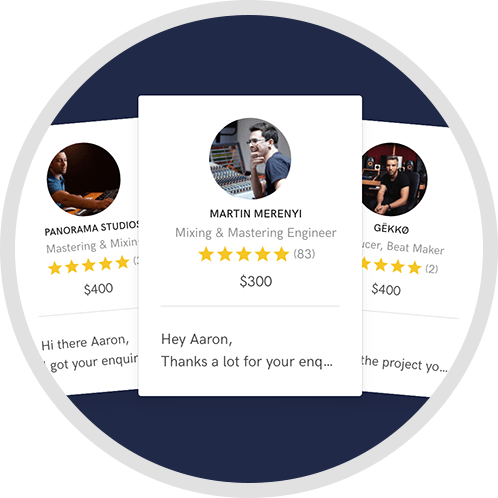 Get Free Proposals
Contact pros directly with your project details and receive handcrafted proposals and budgets in a flash.
Make Amazing Music
Fund and work on your project through our secure platform. Payment is only released when work is complete.