I am a singer/songwriter, producer, and mixing engineer available for hire anywhere in the world! I studied at Berklee College of Music, have toured internationally alongside many industry heavyweights, have also worked closely with world renown producers David Bendeth, Johnny K, Paul Trust, Zack Odom & Kenneth Mount, and Charlie Marotta.
I specialize in Production, Programming, Songwriting, and am a stickler for details! I have worked with some of the best producers and mixers in the world to help hone my craft, and continue learning new things everyday. I practice out-of-the-box production techniques & ideas to make sure my sounds stick out amongst the rest. Bending the "rules" and mixing genres keeps my productions sounding fresh, as well as staying ahead of the curve of what's coming next. I look forward to helping you make your project sound as best as it can be, & will work tirelessly until you are 150% satisfied with the result!
In addition to listed services, I can also provide session guitar work, lyric writing, drum programming, live drums, and more. I am a member of the writing/production team Oh No! Øktapus. We operate out of Red13 Studios in Framingham, MA (right outside Boston). I also do work out of 17CVNDLES Productions in Long Island, NY.
Send me a note through the contact button above.
Credits
Reviews (25)
Endorse Shaun Lichtenstein
check_circle

Verified (Client)

Amazing as always !!! Thanks Shaun !!

check_circle

Verified (Client)

Massive sounding track ! Amazing job ! Loved it, came out real powerful ! Thank you Shaun.

check_circle

Verified (Client)

This one was super challenging but also super fun and rewarding. As usual, Shaun is amazing and working with him is always a joy !

check_circle

Verified (Client)

Cool ! Beautiful track, one take, done ! As always, a pleasure. Shaun's mixes are terrific and well-balanced, such a joy to master his mixes.

check_circle

Verified (Client)

Amazing as always ! That's what i call great teamwork, and as such, results are always excellent. Thanks Shaun !!

check_circle

Verified (Client)

Ten stars ! Love working with Shaun. Enough said. Terrific, everytime !

check_circle

Verified (Client)

This was a fantastic track to work on. Shaun is a highly talented and accomplished mixer, he makes my work a lot easier and i enjoy his mixes a lot, this one was no exception and i enjoy both the song and the mix a lot. Terrific job ! Thanks, looking forward to the next one my friend !

I'm a filmmaker and hired Shaun remotely for one of my musicians to record with. My initial hesitation of not meeting in person was immediately put at ease by his strong, positive communication. The final songs were INCREDIBLE, he truly went above and beyond, by both engineering and contributing creatively. I recommend him with no hesitation.

check_circle

Verified (Client)

You will not find a mixing guy as flexible as Shaun. He makes my life easier by being willing to follow my advice in order to get the exact sound we both want ! Great work Shaun !

check_circle

Verified (Client)

Amazing album, amazing songs and this Shaun delivers such terrific mixes every time. Can't stop raving about it ! It's been such a pleasure and privilege mastering the Shallow Side album, one of the best bands i've ever worked with. Five stars !

check_circle

Verified (Client)

What else can i say ? Love working with Shaun. His mixes are always top-notch, i enjoy the music so much and the workflow is incredibly smooth. Dream gig. Incredible work Shaun !

check_circle

Verified (Client)

Terrific mix, terrific singer, terrific working situation. As expected ! Shaun's work is terrific in every aspect. I always have a great time mastering his tracks.

check_circle

Verified (Client)

Once again, another successfully completed job ! Everyone loved it. The secret ? Simple. Shaun always deliver terrific mixes, every time. I wish i had the "ten stars" option for him. Looking forward to the next job !

check_circle

Verified (Client)

Shaun is a TERRIFIC mixer. Once again he provided me with such a powerful mix for me to master, and needless to say, it came out MASSIVE. Very open to suggestions ! I'm glad to be his mastering sidekick !

check_circle

Verified (Client)

This guy deliver really amazing mixes ! Very enjoyable song and once again, we got an amazing mastered track. As usual, very prompt and courteous communication. Great job Shaun !!

check_circle

Verified (Client)

Shaun Always deliver terrific mixes ! This was no exception and the end result was fantastic. Very powerful and heavy track. Loved it ! A pleasure to work with you again.

check_circle

Verified (Client)

I love working with this guy ! This time i had the pleasure of mastering two expertly crafted mixes by Shaun. Guess what ? Masters turned out incredible ! Shaun is a terrific mixer and such a pleasure to deal with.

check_circle

Verified (Client)

A very nice and well executed mix by Shaun. Always a pleasure to master his mixes and what a nice guy. Five stars as usual !

check_circle

Verified (Client)

Shawn deliver amazing mixes ! Such a joy to do his mastering once again. Everything went super smooth !

check_circle

Verified (Client)

Working with Shaun was a joy. He delivered a great mix for me to master, so the end result was excellent. Great song btw.

Shaun is a true professional and has an extremely versatile musical repertoire. This was very important to me ad I worked with him on tracks that spanned several different music genres. Shaun knocked them all out of the park and really took his time with me and my music, making sure I ended up with the best final product possible.

Looking for a great songwriter, knowledgeable musician, mixer, and producer? I recommend Shaun highly for the job. I had the pleasure of working with Shaun on my solo E.P. and I was very impressed. Not only was he very professional during our time recording but he had great input and really helped me develop my new songs. I would hire him again.

Shaun's well educated and does it all. Knowledgeable, great songwriter, great musician. You work with him, he'll always be there for you. Great kid. Reasonably priced for the work he does.

I've been doing a ton of work with Shaun lately, and he has been killing it on the mixes, masters, and vocal production for me. Really cool vocal chopping/programming as well! Highly recommend him.

Shaun is a badass songwriter, producer, musician and mixer. I have worked with him on a bunch of projects in the past and my experiences were always positive , professional and they sounded amazing. I highly recommend Shaun for any project that you may have.
close
World-class music and production talent at your fingertips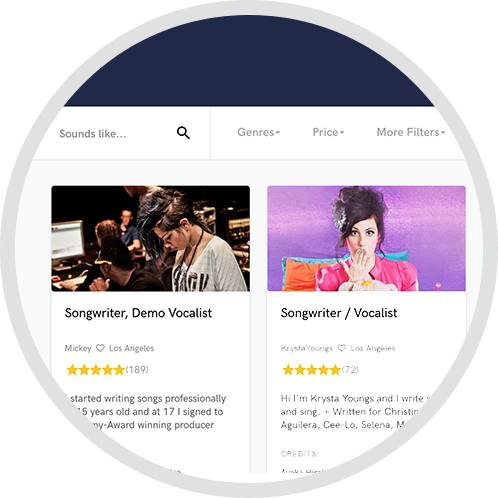 Browse Curated Pros
Search by credits or 'sounds like' and check out audio samples and verified reviews of top pros.
Get Free Proposals
Contact pros directly with your project details and receive handcrafted proposals and budgets in a flash.
Make Amazing Music
Fund and work on your project through our secure platform. Payment is only released when work is complete.