NYC Audio Professional since 1982. Owner of Firehouse Studio in NYC. Currently working out of Tel Aviv. Recorded and/or Mixed and/or Mastered the Wu Tang Clan. Gang Starr. Public Enemy. Das Efx. Subculture Sage. Jazzmattaz. and tons more Hip-Hop artists. In Israel mastered albums by Yudit Ravitz,Chava Alberstein,Yonatan Razel.Karni Postel and more
35 years of ProAudio work. Mastering and mixing expert. Personal and sensitive treatment to your music. From Rock to Jazz to Hip Hop and Avant-Garde I've done it all.
Would love to hear from you. Click the contact button above to get in touch.
Credits
Interview with Yoram Vazan
Q: Tell us about a project you worked on you are especially proud of and why. What was your role?

A: Boy...there are so many of them...Mixes for Das Efx remix "East Coast Rocks". and Gang Starr "Just To Get A rep". And Recording,mixing and mastering for Karni Postel Sugar-Man.

Q: What are you working on at the moment?

A: Subculture Sage from London new EP Mix and mastering. Lazer LLoyd new country/blues Album mastering. Yael Eisenberg Mastering.

Q: Is there anyone on SoundBetter you know and would recommend to your clients?

A: Too new to the platform..

Q: Analog or digital and why?

A: Combine. They both have textures you can decide when to use or not to use.

Q: What's your 'promise' to your clients?

A: 95% of the time I hear your vibe in the song, arrangement, performance and mix.

Q: What do you like most about your job?

A: When the sound of the master is sooooo good I get soooo excited... :-)

Q: What questions do customers most commonly ask you? What's your answer?

A: I don't know if there's a common question that clients ask...everybody has his/her own expectations from the master...so the reactions to the master are almost always unpredictable...it's not like mixing...

Q: What's the biggest misconception about what you do?

A: When a mix is a PPOC* and the client expects it to sound like the best thing on earth...(*Pristine Piece of crap...)

Q: What questions do you ask prospective clients?

A: How do you hear your master? What do you expect from my work? Do you want me to stick with the mix or get creative with it?

Q: What advice do you have for a customer looking to hire a provider like you?

A: Communicate with me!!!

Q: If you were on a desert island and could take just 5 pieces of gear, what would they be?

A: A laptop and a good sound card and speakers.

Q: What was your career path? How long have you been doing this?

A: Started 1981 as a student at IAR in NYC. Worked as a freelance engineer at studios and clubs in NYC 1982 until 1987 when I started my own Firehouse studio in Bklyn and then in NYC. Did major label work until 1999. Mostly Hip Hop and then moved to Tel Aviv to my current mastering suite.

Q: How would you describe your style?

A: I want to become the 5th member of the band under their musical terms. :)

Q: Which artist would you like to work with and why?

A: Mostly up and coming artists. Love that fresh and minimal approach to production.

Q: Can you share one music production tip?

A: Don't over process (with EQ and compression) channels in the mix. Keep It Simple...Don't mess with the stereo buss if you don't know what you are doing. Don't boost the same freq on too many channels...unless they are panned left right...Bounce your mix at around -6 dbfs leave some headroom for the mastering guy.

Q: What type of music do you usually work on?

A: Every day is a fresh new surprise. From Rock to Jazz to Hip Hop to experimental music to country...I've been blessed with that.

Q: What's your strongest skill?

A: Feeling the artist in the song.

Q: What do you bring to a song?

A: I look for emotions. Excitement. Enhancing the right energy that's already in the mix. Impact to the message. Finding the tone that's associated with the musical genre of the song.

Q: What's your typical work process?

A: For album mastering, I set the songs in order, Tighten the ends, 1st listen to the songs. Getting the feel for the album concept, sound and vibe. Starting with the loudest song and a wind-down all the way to the softest song. Occasionally revisiting the 1st master's done for fine tweaking if needed.

Q: Tell us about your studio setup.

A: Half vintage Half plugins. Antelope Audio Atomic clock is the center piece for clocking. Quested Monitors. Great Vibe. :-)

Q: What other musicians or music production professionals inspire you?

A: Daniel Lanoise. The National. Greg Calbi. Tom Lord-Alge. Chad Blake.

Q: Describe the most common type of work you do for your clients.

A: Recently it has been mostly Mastering. Mixing is very welcome when it comes.
close
World-class music and production talent at your fingertips
Browse Curated Pros
Search by credits or 'sounds like' and check out audio samples and verified reviews of top pros.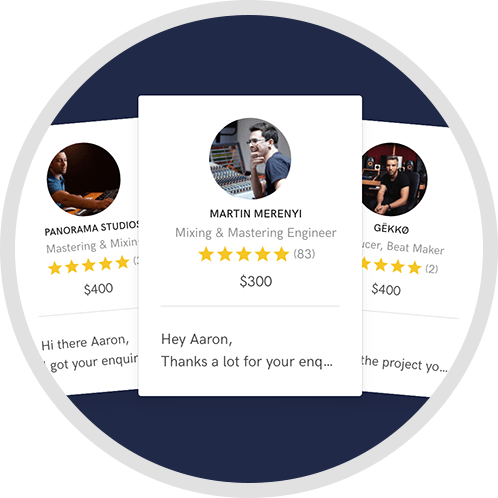 Get Free Proposals
Contact pros directly with your project details and receive handcrafted proposals and budgets in a flash.
Make Amazing Music
Fund and work on your project through our secure platform. Payment is only released when work is complete.