Hi! My name is Simen and I am a audio engineer and music producer. I have a bachelor i music production covering mixing, mastering and production. Check out my soundcloud for music I've produced, mixed and mastered. All kinds of genres!
Send me an email through 'Contact' button above and I'll get back to you asap.
Credits
Reviews (12)
Endorse S.A.K Music
S.A.K did an awesome job! He had a very quick turnaround, was very professional and easy to work with. He was also very creative - suggesting elements in my song that sounded great. The finished product was excellent. I highly recommend his service and will definitely use him again.

Simen is amazing! His productions is sounding like the global tops. Really exiting to do more work with him!

Great working with Simen. He is really professional and easy to communicate with. He understands my vision and is both creative and technical very good!

This was my first time using soundbetter. Simen did a great job mixing and mastering my EP. My tracks sounds full, crisp and clear now after some work my the man! :) Highly recommended

Great to work with. Very talented and a nice guy.

Listening to his work, I'm very impressed with Simen's creativity on his tracks. I'm excited and looking forward to creating a lot of music with him.

Listening to work done by S.A.K immediately makes you realize how much he loves doing what he does. The combination of his education as a music producer, and his raw talent as a musician, really takes his work to another level. His interest in several different genres gives him a wider understanding of what is needed to make your music unique.

Simen makes great mixes that is crystal clear together with a heavy bass! His songs makes you want to dance! Never met a more passionate and genuine guy, which you can feel through his music.

S.A.K produced our debut album and we are very pleased with his productions. His mixing and mastering abilities are really impressive. He also recorded drums, bass and guitar for us - of the best quality. A great guy to work with, and so professional. Looking forward to do another project with S.A.K.

S.A.K is a high class producer. His future is bright, and I would highly recommend to contact him. He is professional and his passion for music is inspiring. He deliver top quality songs in different genres. The last year we've recorded two albums in his studio. We are so pleased to get the opportunity to work with S.A.K Music.

Simen is fun to work with! He's got great energy, plenty of ideas, lots of focus and even though he's incredibly efficient he still manages to keep an eye on all the details. He's a genuinely nice person with a lot of passion for the work he does and really, what more can you ask for? Hoping to do another project with you soon, Simen!

Simen is a productive and experience producer and audio engineer. He works really effective and makes radio quality mixes in no time. He is also a great person in general and is easy and professional to communicate with.
You can tell by the way he works with the music that he is incredibly passionate and he puts his heart and soul into it.
close
World-class music and production talent at your fingertips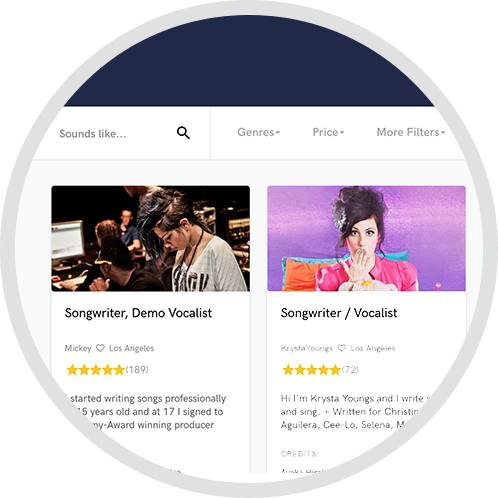 Browse Curated Pros
Search by credits or 'sounds like' and check out audio samples and verified reviews of top pros.
Get Free Proposals
Contact pros directly with your project details and receive handcrafted proposals and budgets in a flash.
Make Amazing Music
Fund and work on your project through our secure platform. Payment is only released when work is complete.