My Name is Zach Bloomstein. Im a Boston based Engineer/Mixer/Producer. Ive been a staff engineer at 37ft productions since 2014 where I currently inhabit the B room. I've worked with many local and national acts including Chris Robinson, Joe Perry, Elliot Easton, Daisybones, HAGO, Anakdota, Peter Montgomery and many more.
I offer professional Recording, Mixing, Mastering and Production. I'll help you take your songs from demos to full fledged professional recordings
Send me a note through the contact button above.
Credits
4 Reviews
Endorse Zach Bloomstein
I've been working with Zach for over a year, and highly recommend him. He's reliable (never cancelled), punctual (never late), professional (knows his tools—mics, software, hardware, amps, whatever), focused (not looking at his phone or distracted in any way), efficient (greased lightning at the keyboard), patient (never a pained sigh after requests for … anything!), supportive (has a producer's attitude whether he's producing or not), percipient (tuned-in esthetically, good ears and attitude), and just plain enjoyable to hang out with. Older and wiser than his years.

Worked with Zach on my most recent record and I am beyond pleased with the end results. He is incredibly easy to work with and has a great ear for any genre.

Have had Zach work on multiple tracks with me. Overall a great experience in the studio. Knowledgeable and easygoing making you very confident and comfortable with the final product.

Zach and I have produced multiple records together and continue to get satisfying professional results each time. Zach's ability to be competent and formal in a studio setting mixed with his personalized approach to each recording makes him stand out among others. Not only does Zach own and have access to some of the best tools, instruments, and studios both vintage and contemporary but his natural curiosity and fine-tuned ear allow him to achieve any sound you are looking for. Zach's ability to mix recordings along the way was time-efficient and also helped me see the bigger picture.
Interview with Zach Bloomstein
Q: Describe the most common type of work you do for your clients.

A: I usually work with a band from the beginning of the recording process, listening to demos and having pre production meetings. Once we feel ready and rehearsed we head into the studio to record. I really enjoy doing two week lockouts to do full length records.

Q: Can you share one music production tip?

A: Don't overthink it! The song will tell you what it needs so theres no sense in beating it to death overthinking the process.

Q: If you were on a desert island and could take just 5 pieces of gear, what would they be?

A: Coles 4038, Sm7b, Kush Omega, Wa76, Kush Elektra

Q: Analog or digital and why?

A: Both! They both bring a completely different workflow to the table. Every project is different and may call for one or the other

Q: What are you working on at the moment?

A: Im working on mixing a great record for Pet Moth that we recorded this past summer, Im also mixing the debut record for Chip, as well as a few singles for Bowling Shoes. Im also in the middle of full lengths for Peter Montgomery and Barry Marshall
close
World-class music and production talent at your fingertips
Browse Curated Pros
Search by credits or 'sounds like' and check out audio samples and verified reviews of top pros.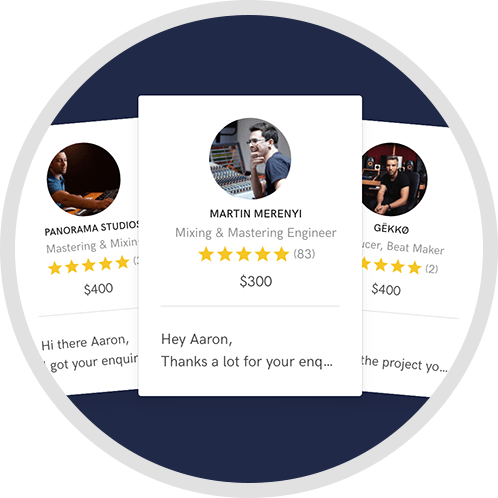 Get Free Proposals
Contact pros directly with your project details and receive handcrafted proposals and budgets in a flash.
Make Amazing Music
Fund and work on your project through our secure platform. Payment is only released when work is complete.