Let John Rogers from JR mastering turn your project into a commercial radio ready masterpiece!
I'm looking for new clients who want a highly-skilled sound engineer that actually cares about their project!
Hello, my name is John Rogers, professional sound engineer since 1999. I've worked with over 7,500 highly satisfied clients on over 30,000 songs. I've mastered over 10,000 rock songs (all styles), 10,000 hip hop songs, and at least 5,000 EDM & Pop Dance songs. I have a ton of experience in every genre and will master your project very well for you!
I've worked with a few Grammy award winners, and mastered several billboard European chart topping songs.
I've also mastered songs played in major dance clubs all-around-the world, and hundreds of movie and commercial soundtracks.
I know "how" to get your music to sound the very best it can and "I get it there!"
MASTERING SALE - NOW ONLY $30 PER SONG.
Only MASTERING Prices -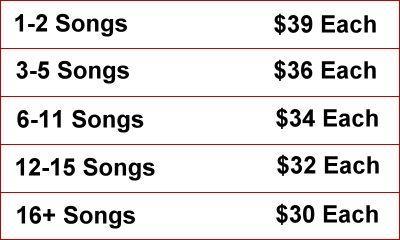 MIXING PRICES (includes FREE MASTERING) -
Prices are based on number of channels/tracks per song. 6 songs or more gets 20% OFF total bill!
Click the 'Contact' above to get in touch. Looking forward to hearing from you.
Gear highlights
Cubase
Manley
SSL
RME
Waves
UAD
Dynaudio
Genres I specialize in
Reviews of JR Mastering
---

Amazing timelines in finishing the project with quick updates. My track was taken to a wow level and this is definitely not the last. Great work JR! Will definitely recommend working with him

---

John a great job of mastering all the tracks I needed and was very responsive and professional throughout the process. Would recommend.

---

Great experience, John did a fantastic job on the master. Fast, reliable, professional and very good communication!

---

Big Label Sound ROCKS! So quick and nailed the sound I was looking for. I'll be back.

---

John Rogers did an amazing job mastering our track. He had a fantastic master ready for us within a few hours of receiving our proposal. We asked for a few tweaks and he had them ready within a few hours again. The whole process, including changes, took 24 hours. We are very proud of our track and he gave it the professional quality it needed.

---

For the money a great product, easy to work with and very understanding!

---

Very quick response times, good suggestions for the song and most importantly a great final result. Recommended.

---

It was great working with Big Label sound. Will work with him again this month.

---

A true pro, pleasure to work with, great work!!

---

John Rogers did a P H E N O M I N A L job on my project! I would never have thought my tracks would have ever sounded the way he made them sound. Truly S P E C T A C U L A R! It could not be better! He made my tracks sound even better than what I expected. If you want your music to sound the best it can, then you DEFINITELY should look no further!
Interview with JR Mastering
What do you like most about your job?
I'm very good at what I do, and my clients love the results! I'm getting paid to HELP people and bring them JOY!! It doesn't get any better than that, my friend!
Tell us about a project you worked on you are especially proud of and why. What was your role?
I just mastered a song "for free" that was written for a little boy who was dying of cancer. I was happy to be a part of that project. But I work with SO MANY clients that have AMAZING projects. I'm very happy and proud when I finish each one! Everyone including the clients, we're all happy and proud when we finish a great project!
What are you working on at the moment?
I have two EPs and a 12 song CD that all came in today. 2 Hip hop and 1 Rock. I'm working with a guy with a Classical CD and one with a Jazz CD that will both be uploaded within the next two days. As I type, just got in a spoken word project, 8 songs. Busy weekend for me!
Is there anyone on SoundBetter you know and would recommend to your clients?
No.
What questions do customers most commonly ask you? What's your answer?
How much for mixing and mastering? I Answer - It depends how many channels you have per song. How many do you have?
What's the biggest misconception about what you do?
For me it's when someone says, "Mastering is just making a song louder." I say "for me" because "I" do A LOT more in the mastering process!! But, there are lot of mastering studios out there that don't go through the same processes I do. "Make the songs louder" is the ONLY process they know!! Not good....
What questions do you ask prospective clients?
If they have a reference they would like their song to sound like? Can they make changes in the mix if necessary? Do they have any special request they're looking for like - extra warmth, more bass, etc.
What advice do you have for a customer looking to hire a provider like you?
Look at their website, listen to their samples, get a free demo if you can, and don't over-pay when you don't need to. I get re-work mastering jobs from engineers charging $100 a song! It doesn't happen often, but it does happen a few times a year. Those who charge $50 a song, I get re-works on their jobs every month! Just because someone charges a ton of money doesn't mean you're going to get a great finished. product!
If you were on a desert island and could take just 5 pieces of gear, what would they be?
Computer w/ cubase and kontakt 5, mini midi keyboard, mic, speakers and a huge solar powered battery -- for power.
Can you share one music production tip?
The vocal is the most important part of a song. Make sure it's recorded with some inspiration, make it thick, and make it clear in the mix. Give it some space!!
What type of music do you usually work on?
Like everyone else, 80% of the work that comes in is either Rock or Hiphop. But since 1999, I've mastered at least 100 CDs in EVERY genre there is!
What's your strongest skill?
Being able to make songs sound the very best they can. Make them sound how they're supposed to sound, not just "louder." I can also easily match any reference you might have.
What do you bring to a song?
I definitely bring the BEST PRICES for the results I will deliver!! I also personally work with the client to make it sound the very best it can. Even if that means I have to tell them what they need to do to correct in their mix so we can get it there!
Analog or digital and why?
Both. Some want analog. Some don't care.
What's your 'promise' to your clients?
I will make your songs sound the very best they can, and if you don't like my work you get a full refund. It doesn't get any better than that!
What was your career path? How long have you been doing this?
Started in 1997 in Michigan, then to NY, then Los Angeles, and now Las Vegas.
How would you describe your style?
Professional and Personable. I treat others and their projects the way I would like to be treated.
Which artist would you like to work with and why?
Anyone who uploads a project to my site! I love mixing and mastering music and put no preference on a "celebrity artist."
What's your typical work process?
It depends on the project. But close communications with the client and fast professional work is part of the process for every client.
Tell us about your studio setup.
I use top-of-the-line equipment both analog and digital.
What other musicians or music production professionals inspire you?
I'm inspired by EXCELLENCE! If anything is excellent in any genre, I'm a huge fan of everyone involved.
Describe the most common type of work you do for your clients.
Both - Mixing and Mastering.