Recent projects in my studio include guitar overdubs for Rod Stewart and Don McLean
I have been a studio and touring guitarist in Nashville for over 30 years working with artists including Rod Stewart, Dolly Parton, Paul Simon, Kenny Chesney and Olivia Newton-John to name a few.
Please search AllMusic under both Michael Severs and Mike Severs
I am now geared up in my home studio to add my guitar parts to your songs.
Contact me through the green button above and lets get to work.
Credits
1 Reviews
Endorse Mike Severs
Mike Severs is the consummate guitarist for just about any style you're looking for. His resume reads like a who's who of the last three decades of the music business.

A total pro and a gentleman throughout, Mike NEVER fails to deliver. "A" game all the way.

I work with Mike every chance I get. You should too!!
Interview with Mike Severs
Q: What do you like most about your job?

A: Working with creative people.

Q: What questions do customers most commonly ask you? What's your answer?

A: How soon can you get to this?

Q: What questions do you ask prospective clients?

A: Where is this music going? Record, film, TV, jingle? Do you have a specific sound or style in mind or should I let the song tell me what to play?

Q: What advice do you have for a customer looking to hire a provider like you?

A: I have a lot of experience that I'm willing to bring to your project. I want and need your ideas but at some point you might need to trust me and let me run free with the input that you give.

Q: If you were on a desert island and could take just 5 pieces of gear, what would they be?

A: A Gibson ES-335, a Fender Princeton Reverb, a Martin D-28, a Fender Telecaster and some kind of recording device.

Q: What was your career path? How long have you been doing this?

A: I always wanted to be a studio guitar player and I have been for 35 years.

Q: How would you describe your style?

A: Rock, R&B and country.

Q: Which artist would you like to work with and why?

A: Annie Lennox. She is a true artist.

Q: Can you share one music production tip?

A: Don't be afraid to say "I'm finished."

Q: What type of music do you usually work on?

A: Truly, everything imaginable.

Q: What's your strongest skill?

A: I know my way around a song. I know how to listen to what the song is saying with both the lyric and melody and craft my parts to enhance that.

Q: What do you bring to a song?

A: I have 30 years of experience working with the greatest songwriters and producers in Nashville. I know song craft and also what it means to create an hook that keeps people listening to a song.

Q: What's your typical work process?

A: I receive a stereo mix or preferably separate vocal and track stems, import that into protools and and go to work getting inside the song. Sometimes I have an example to work from and sometimes I'm on my own to create the guitar parts that serve the song.

Q: Tell us about your studio setup.

A: Pro Tools HD, a large selection of mics, pres and outboard gear. I have an insane collection of guitars and amps. If there is a sound from a particular guitar or amp that you need I probably have it.

Q: What other musicians or music production professionals inspire you?

A: All of the great Nashville and LA studio guitarists of the past 40 years.

Q: Describe the most common type of work you do for your clients.

A: I add my electric and acoustic guitar parts to my clients songs.
close
World-class music and production talent at your fingertips
Browse Curated Pros
Search by credits or 'sounds like' and check out audio samples and verified reviews of top pros.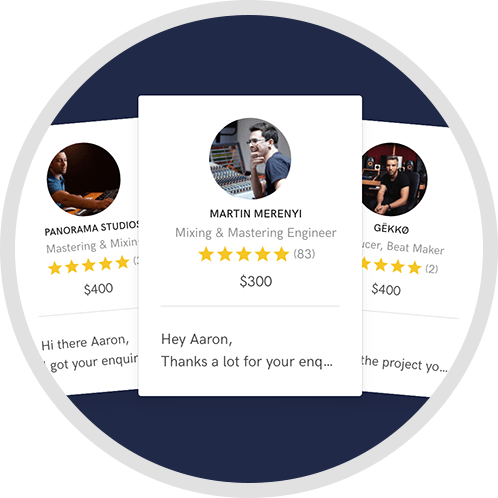 Get Free Proposals
Contact pros directly with your project details and receive handcrafted proposals and budgets in a flash.
Make Amazing Music
Fund and work on your project through our secure platform. Payment is only released when work is complete.