Catchy vocal melodies guaranteed!
Hello,
I'm a Swedish singer, songwriter and pop-producer, based in Los Angeles CA. My strongest quality in songwriting and production is my natural instinct for catchy melodies.
​
Quotes/References:
"Jessica, in my opinion has written some very good songs spanning a wide variety of styles and originality. Her production sounds professional and well thought out" / Robin Randall
"She is a pretty well seasoned top-liner, with really interesting lyrics and melodies. Her beats are also on par with today's tracks" / Suzan Koc
Would love to hear from you. Click the contact button above to get in touch.
Interview with Jessica "Jes" Bergkvist
Q: Can you share one music production tip?

A: Trust your instinct

Q: What's your strongest skill?

A: Melody making: memorable and catchy.

Q: What type of music do you usually work on?

A: Pop, Rock, EDM, Dance, Electronica

Q: What do you bring to a song?

A: Catchy melodies, characteristic and dynamic vocals.

Q: Tell us about your studio setup.

A: Home studio setup

Q: Describe the most common type of work you do for your clients.

A: Top-line, Vocals, Track Production
close
World-class music and production talent at your fingertips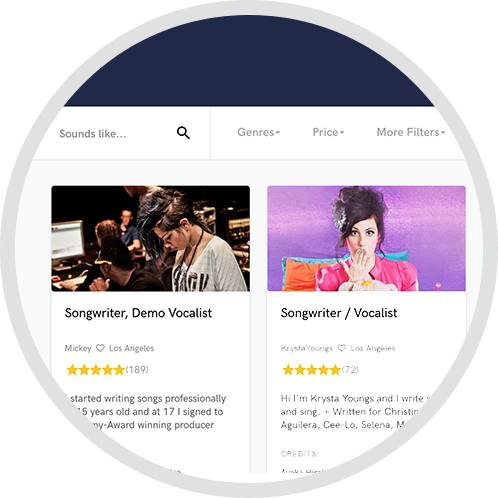 Browse Curated Pros
Search by credits or 'sounds like' and check out audio samples and verified reviews of top pros.
Get Free Proposals
Contact pros directly with your project details and receive handcrafted proposals and budgets in a flash.
Make Amazing Music
Fund and work on your project through our secure platform. Payment is only released when work is complete.