Hello! My name is Rich Ridgell. I'm a Music Producer/Songwriter and Audio Engineer based out of Nashville, TN. I love music and my passion for music has led me to this awesome career. I am a multi-instrumentalist. I love making records and helping people share their passion and art with the world.
I Produce, Mix, Engineer, and Master finished tracks. (I can do one or all of these for you based on your needs)
I have a songwriting team if you need ideas to finish your songs.
I can play all instruments to build your track(except drums which I can program or get a live drummer)
I'd love to hear about your project. Click the 'Contact' button above to get in touch.
Credits
Interview with Rich Ridgell Productions
Q: Tell us about a project you worked on you are especially proud of and why. What was your role?

A: My favorite project so far was the one I produced for my own band. It was an awesome experience and I learned a lot! Producing and engineering for yourself is a very hard process because you become so very close to the songs. My role was Artist, Songwriter, Producer, Mixing Engineer, and Mastering Engineer.

Q: What are you working on at the moment?

A: An LP for a killer up and coming funk/soul band self-titled "The Sweetness", a demo real for my writing team, and an Artist demo for the inspiring artist/writer Ally Honeywell

Q: Analog or digital and why?

A: Analog is classic. Digital is the future. Analog will never be dead, but I definitely am a true believer in the software emulations from UAD. It's the best of both worlds really. A great engineer can get a great mix out of both.

Q: What's your 'promise' to your clients?

A: I promise to give you my best work everytime. I will never hold anything back.

Q: What do you like most about your job?

A: Music, and the people who make it!

Q: What questions do customers most commonly ask you? What's your answer?

A: What is your background? I have a Bachelor's Degree in Music Production and Recording Technologies from Shenandoah Conservatory. However, everything I have learned about mixing and production has been while I was accually doing it in the field. College gave me a basic understanding to build off of once I got to Nashville.

Q: What's the biggest misconception about what you do?

A: Rome wasn't built in a day. Producing and mixing takes time. You can't rush art.

Q: What questions do you ask prospective clients?

A: What are your goals as an artist? What do you want to say with the song/album?(vision) What are your biggest influences? What's your story?(background) When is your deadline?

Q: What advice do you have for a customer looking to hire a provider like you?

A: Open lines of communication are key. Emails, text messages, and phone calls are essential.

Q: If you were on a desert island and could take just 5 pieces of gear, what would they be?

A: iMac, Apollo, Sm7b, Fender Strat, Komplete Kontrol 61.

Q: What was your career path? How long have you been doing this?

A: I've been working in the recording industry in Nashville for 5 years now. When I first moved to town I was an intern then an assistant at Sony Tree Studios. After working with some of the best producers, engineers, songwriters, and musicians in the business I decided I wanted to take everything I had learn during that time and step into the role of engineer and producer myself. That's when I established Rich Ridgell Productions and began finding songwriters and bands to produce. I've been doing that for the last two years now. Lately I'm doing a lot of full productions for writers and I'm also doing the mixing on the projects. But, I always love to produce something and have someone else mix it, or mix something someone else has produced.

Q: How would you describe your style?

A: My style is very inspired. I always put the song first, and never let my own ego and vision overtake the artist/writer's.

Q: Which artist would you like to work with and why?

A: Jon Bellion and Twenty One Pilots. These guys are pushing the limits of music production and I really dig what they've accomplished so far.

Q: Can you share one music production tip?

A: Don't over compress too early. Most of the tracks I hear from people just starting out have no life because everything is the same volume and intensity the entire time. Music has to breathe and sound alive to be truly transcendent and inspiring.

Q: What type of music do you usually work on?

A: Country, Rock, Blues, Americana, Funk, and Pop.

Q: What's your strongest skill?

A: I'm very effective at communication, and I always gives %110 of what's asked of me.

Q: What do you bring to a song?

A: I only bring what the song asks me to bring. As cheesy as that sounds I focus on the lyrics and vibe that are intended with a track. Also, it depends on my clients goals. A radio country track is going to turn out very different from an Americana deep cut.

Q: What's your typical work process?

A: It depends on the project. But usually I try to nail down songwriting first then jump to production and tracking. I will do light mixing as I go, but save the majority of mixing for my mix day(s). Once it's mixed and my clients are happy with it I like to step away for a day or two to have fresh ears for mastering. However, in a pinch I can definitely mix and master a track in one day.

Q: Tell us about your studio setup.

A: My studio setup is very in-the-box. I have a UAD Apollo 8p and I use mostly analog emulations of classic gear. I do have a few outboard pres(Rupert Neve Porticos), a compressor, and a decent mic selection.

Q: What other musicians or music production professionals inspire you?

A: Too many to list, but right now I'm stuck on Chris Stapelton and Dave Cobb's work together. Other big influences include Dan Huff, Charlie Peacock, Quincy Jones, T-Bone Burnett, and Jon Bellion. My favorite guitarists off all time include SRV, Hendrix, and Wes Montgomery.

Q: Describe the most common type of work you do for your clients.

A: I do mostly production work, mixing, and guitar playing. I'm also a songwriter/composer so I make tracks for my writing team to write too, as well as full instrumentation demos/masters for songwriters and bands.
close
World-class music and production talent at your fingertips
Browse Curated Pros
Search by credits or 'sounds like' and check out audio samples and verified reviews of top pros.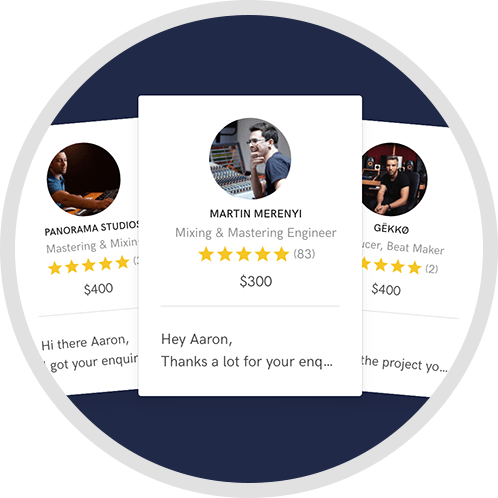 Get Free Proposals
Contact pros directly with your project details and receive handcrafted proposals and budgets in a flash.
Make Amazing Music
Fund and work on your project through our secure platform. Payment is only released when work is complete.