Bryce Zabric is a machine in the studio with the ability to engineer, mix, produce and program. You won't find Bryce sitting around when there's work to be done and he always delivers with enthusiasm. His high attention to detail, military background and advanced technical skills are put to good use at The Music Group and his home studio.
Intro = Formal, describing myself = get to know ME! My main passion would be that of the mixing world, yet I'm no stranger to the love of recording, producing and the creation art of programming.
After many tries in the industry at the performing side of things, I realized that "behind the console" is, well, the love of my life. What a specific mic pre, eq, compressor, mic, keyboard, etc. can do to a sound or vibe is the reason I decided to stick with the "nerd" side of things. I've been involved professionally on the engineering side for over 5 years (although about 10 years overall) and collaboration and experimentation are key essentials in todays music business, according to me!
I "punched out" (that's an ejecting from an aircraft term) of Active Duty in the Air Force after being in for 5 years to pursue my passion. I have met and gotten to work with some of the coolest and most creative people EVER thanks to this job. I never wake up Monday and say "man I do NOT want to go to work today". So with our passions combined, let's create some, what I consider, real magic and change peoples lives! Or whatever you want to accomplish!
Click the 'Contact' above to get in touch. Looking forward to hearing from you.
Credits
Interview with Bryce Zabric
Q: Can you share one music production tip?

A: Don't start no stuff, won't be no stuff! Although those are great words to live by, my real tip is, don't let your friends manipulate your sound. When you, your producer and engineer are happy, it will be a solid piece of work!

Q: What's your strongest skill?

A: Besides recording and mixing it would have to be my "people skills". I love, love, love meeting and working with new and past clients! We always have a comfortable, relaxed environment and this makes for great music and fun!

Q: What's your typical work process?

A: Record great, edit great, mix great! Can't beat great!

Q: Tell us about your studio setup.

A: I work out of a studio called The Music Group which is a world class studio. They have 2 Neve consoles, a great selection of outboard gear and microphones. I also do a lot of work from my home studio where I have a Raven MTi, quite a bit of outboard gear, but I mostly work in-the-box there.

Q: Describe the most common type of work you do for your clients.

A: The most common type of work I do is record, edit, mix and program. I work with a lot of local and world wide talent, but I also create instrumental and stem tracks for a company called Christian World.
close
World-class music and production talent at your fingertips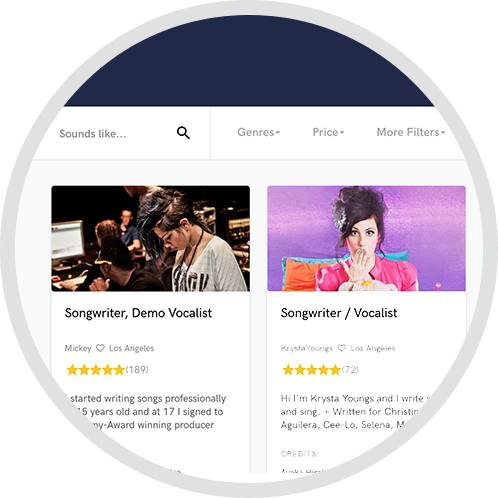 Browse Curated Pros
Search by credits or 'sounds like' and check out audio samples and verified reviews of top pros.
Get Free Proposals
Contact pros directly with your project details and receive handcrafted proposals and budgets in a flash.
Make Amazing Music
Fund and work on your project through our secure platform. Payment is only released when work is complete.