Do you need professional guitar tracks for your productions?! I'll help you out ! My name is Lars Rüetschi, I am a professional live & studio guitar player for 20+ years, looking back on a rich experience having played almost any kind of music.
How does it work ?
You can reach me by the contact form or email. After we spoke about your general idea and vision of the song you send me your stereo-track as an mp3 file. If you worked with virtual guitars or samples you can send me 2 versions - one with guitars, one without - to get an idea of what you imagine. Otherwise I feel free to offer you my own version...
You get my recordings as 44.1kHz/24 bit wave files. Unprocessed or/and processed, as you wish. Especially with overdrive, distortion and also some other effects, the sound interacts a lot with the feel of playing and makes often sense to be part of the track.
Check my other services on the right. I also do mixing & mastering.
Recent Albums I played on:
https://www.fuego.de/music/11873
https://soundcloud.com/katethomassinger/sets/the-lions-raw
on youtube:
https://www.youtube.com/user/soulguitar77
EP I mastered:
https://goer.bandcamp.com/album/up-so-down
Contact me through the green button above and lets get to work.
Credits
19 Reviews - 5 Repeat Clients
Endorse Lars Rüetschi
Lars always delivers to promise with quality work. He has continued to amaze me with his creative flare - with my tracks and products coming together I can always reflect on the colour lars has added to my projects

Lars is a true artist who can deliver a unique crafted guitar sound. he guided me through my work and provided me with insightful ideas i would have never have orchestrated on my own. lars not only plays the tracks, but in giving him time he was able to get into the feel of the song to provide something special. brilliant guitarist, artist and all round great guy.

Lars has delivered way above expectation. His technical brilliance has provided an ambience to the song that has taken it to a new level. he is great to work with and provides professional guidance to deliver a great outcome. i have worked with Lars several times and if you provide the right track his will fill it with expression and feeling . He also has some great examples on line worth listening too.

This is the second project I have completed with Lars. His talent and feeling shone through yet again. he is a exceptional communicator, creator and musician. he has delivered some brilliant guitar work and has made my song full of life and colour.

Lars is an amazing guitar player who can play to the song and adds the right level of colour and imagination. he is brilliant to work with and communicates well. he has helped me bring a song to life in way that was better than I ever anticipated. he left me with tracks that sound alive. awesome guitars

Lars is a professional. Very skilled and provides a great service. Definitely will work with him again in future.

I would definitely recommend Online Guitar Tracks. Lars was very professional and a pleasure to deal with. the final product was amazing and I will definitely work with him again.

Great work! Thanks again Lars!

Lars was a pleasure to work with. Super friendly guy who takes his job very seriously. He made our tracks sound a whole lot better in a very short amount of time. Will be back in the future!

Keep up the awesome work friend!

Another great experience working with Lars! puts his heart and soul into each project and with his experience and incredible playing its just a joy to work with him time and time again! I will be back ...

I am very glad to have had the pleisure to work with Lars. As a professional musician he created a marvelous brass arrangement which more than lives up to my expectations. Lars has done an exceptional job.
By the way, Lars is a really nice guy to work with and knows how to act with clients. I highly recommend him to everybody.
Thank you.

Lars was, as usual, great to work with. He's responsive, polite and very talented.

Lars has done a wonderful job mastering my tracks, and all for a very reasonable price. He's responsive, easy to work with and a very talented musician as well. I highly recommend working with him!

Lars is a great talent. He brought a unique perspective to my song. Awesome job!

Working with Online Guitar Tracks was an A+ experience. Great musical talent and very professional attitude. Highly Recommended for anyone looking to get great Guitar Tracks with superb customer service. Lars Ruetschi is much fun to work with, he is very dedicated and sensitive to s project needs. Thanks!!!

Online Guitar Tracks, i.e. Lars, is a great guy to work with. Fast turnaround, dedicated, involved, very flexible, uncomplicated. Nice, clean, melodic guitar work. Not to mention that his price is a steal. Just booked a second song with Lars.

Such a great musician with good vibes,don't miss him if u want a good quality of professional work

Such a great musician with good vibes,don't miss him if u want a good quality of professional work

Absolutely brilliant to work with. Professional, talented and versatile lead and rhythm guitarist. Great communication and had a very organic approach which is just perfect for me. I will definitely use Lars again it was a joy.
Interview with Lars Rüetschi
Q: Describe the most common type of work you do for your clients.

A: I do mostly online sessions for people who need guitar tracks. Almost any kind of style from classical guitar to Metal, with Jazz, Flamenco, Worldmusic and Pop in between. I came through Rock to the Electric Guitar, played Classical Guitar for many years and studied Jazzguitar at the Music Academy Basel, so my horizon is quite wide I would say :) Appart from that I do also online mixing. I am an autodidact in this and can't offer 20 years of professional experience like with guitar playing, but I do it with passion and daily for 5 years+, so also there I can offer good results, especially for people on a budget.

Q: Tell us about a project you worked on you are especially proud of and why. What was your role?

A: There were many and even from the not-so-good ones I learned something and took some experience with me.

Q: What are you working on at the moment?

A: Recording a Solo for a Prog-Rock project. Great song and a lot of fun !

Q: Analog or digital and why?

A: Analog AND Digital. Because both worlds have some advantages and disadvantages, so why not to combine the best from both ?!

Q: What's your 'promise' to your clients?

A: I take everybody serious

Q: What do you like most about your job?

A: Creativity, new influences, making people happy and doing what I can do the best.

Q: What questions do customers most commonly ask you? What's your answer?

A: "Can you play this kind of style ?" Luckily my answer is mostly "Yes"

Q: What's the biggest misconception about what you do?

A: What, to make music is a profession ? LOL (at least these were the reaction 20 years ago here...)

Q: What questions do you ask prospective clients?

A: Do you have any visions about the song...

Q: What advice do you have for a customer looking to hire a provider like you?

A: Listen to some music, to know if you are stylistically in the same ballpark...the rest is chemistry

Q: What was your career path? How long have you been doing this?

A: Piano 31 years, Guitar 23 years, professionally 20+ years and hiiiiiiiighly intense and passionated

Q: How would you describe your style?

A: worldpoprockjazzlatinethnogypsyfunk with always my personal note inside...

Q: Can you share one music production tip?

A: STAY TRUE TO YOURSELF AND BE CREATIVE !!!

Q: What type of music do you usually work on?

A: see above...

Q: What's your strongest skill?

A: Guitar (and piano) playing, as I play these instruments obsessive since I am a child. Characterwise, I am open for most kind of music and mostly emphatic enough to get what the clients wants. I am only happy, when the customer is happy.

Q: What do you bring to a song?

A: What it needs :) I try to play what is the best for the song, to embed my playing in the flow of the track, to play with the style, the energy and the message but still being creative and unique.

Q: What's your typical work process?

A: After getting contacted, I like to hear an mp3 of the clients track and some inputs/visions if he has a specific idea. Otherwise I offer something on my own. After being live & studio guitar player for so many years, I have some feeling for aesthetics and what could match the music style, the energy of the song a.s.o. the best. Sometimes I hit it 1st Track. If not, I talk with the client to get better what he imagines and do a revision. Some things about music are difficult to describe with words, so reverence tracks are helping in such cases.

Q: Tell us about your studio setup.

A: I go through an Audient iD22 Audio interface in the computer. Great converters and great preamps were priority, to get the signals as well as possible in the box. I also didn't save with cables, as they can make a big difference. I use Sommer Galileo Cables, not to have any quality loss with the signals before converting. For acoustic guitars I use mostly Oktava Mk 012 (I have a matched pair) or the Audio Technica 4050 Mics. My most played E-Guitar is a Godin LGX. I have my room acoustically treated, which is more important than many other things, it took me long to realize that. I also have a vintage Sennheiser MD421, acoustic guitars (Espala, Takamine and others).

Q: What other musicians or music production professionals inspire you?

A: Many...there are so many talents on this planet. Joe Satriani, Baden Powell, Mark Knopfler, Gary Moore, Pat Metheny, Vicente Amigo, Paco de Lucia, Mike Stern and many more. As wide my stylistical preference is, as wide are my inspirations or more vice versa.
close
World-class music and production talent at your fingertips
Browse Curated Pros
Search by credits or 'sounds like' and check out audio samples and verified reviews of top pros.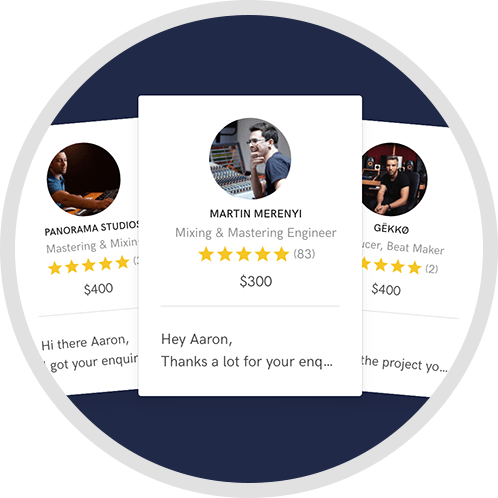 Get Free Proposals
Contact pros directly with your project details and receive handcrafted proposals and budgets in a flash.
Make Amazing Music
Fund and work on your project through our secure platform. Payment is only released when work is complete.