Greetings! My name is Donnie B. GotDaBeats. I started producing professionally at 17 years old. At 23, I had produced for multiple recording artists from Washington, DC, New York, & Philadelphia. In my 30's, I've had time to fine tune my skills and compile my accomplishments.
I can produce quality music in an amazing amount of time. I have close to two decades of producing and mixing experience, and time recording at a professional level in the Music Industry. I am proficient in Pro tools, Logic, Cuebase, Fruity Loops, and Studio One. I am also highly skilled at vocal production and arranging. If you're seeking a name, I'm sure that you may look past me. If you're seeking talent, I'm sure that you shouldn't pass me up. My best production work is done live and real time with artists.
I'd love to hear about your project. Click the 'Contact' button above to get in touch.
Credits
8 Reviews
Endorse Donnie B. Got Da Beats
check_circle

Verified (Client)

Another great collab with Donnie. This one is my new favourite! Every piece of music he gives me to write to is an all around great experience. Once again, can't wait for the next one!

check_circle

Verified (Client)

Donnie B strikes again! So much fire music on the way! :D

check_circle

Verified (Client)

Definitely one of my favourite people to collaborate with! Every project with Donnie is a blast. One stop shop for all of your production needs!

check_circle

Verified (Client)

Another great project in the books! Just as awesome as the first one. Donnie B's production is top tier!

check_circle

Verified (Client)

Great person to work with! He is very professional and handles business

check_circle

Verified (Client)

Working with Donnie B, was a great experience. Loved his production. It made the writing come super naturally and organically. He gave me clear guidelines, and was a champion throughout the whole process. Can't wait for the next project!!

check_circle

Verified (Client)

i absolutely loved working with donnie !

check_circle

Verified (Client)

Always great working with Donnie. The beats are always FIRE!!
Interview with Donnie B. Got Da Beats
Q: What other musicians or music production professionals inspire you?

A: DJ Premier, Timbaland, Jus' Blaze, Kanye West, Manny Fresh, The Dungeon Family, Alchemist, 9th Wonder

Q: Tell us about your studio setup.

A: Logic Pro X and Protools 12 with over $40,000 of plugins,

Q: What's your typical work process?

A: Varies depending on what my project is and my involvement.

Q: What do you bring to a song?

A: I bring trendy sounds and quality to whatever facet of the song I'm involved in.

Q: What's your strongest skill?

A: My ability to create music around an acapella or in a session very quickly (the quickest I've done is a little under 10 minutes).

Q: What type of music do you usually work on?

A: Hip Hop/Rap/Trap/Trap Soul, but only because of the artists I'm commonly exposed to like these types. I'm quite able to produce other genres of music.

Q: Can you share one music production tip?

A: Focus on perfecting the drum patterns. The productions are commonly called "beats" for a reason.

Q: Which artist would you like to work with and why?

A: Who wouldn't want to work with Jay Z, Method Man, Redman, Kendrick Lamar, Jadakiss, Eminem, 50 Cent, Usher, Beyonce, Justin Timberlake, Bruno Mars? I think it's self-explanatory.

Q: How would you describe your style?

A: Diverse, Commercial, Quality.

Q: What was your career path? How long have you been doing this?

A: Just been doing music, and have been since 1993 roughly.

Q: If you were on a desert island and could take just 5 pieces of gear, what would they be?

A: Laptop w/ Logic Pro, Headphones, USB Mic, USB Keyboard, and a USB Powered Hard Drive.

Q: What advice do you have for a customer looking to hire a provider like you?

A: Be willing to pay for the service that you expect. You can't walk into a department store and haggle prices (mostly).

Q: What questions do you ask prospective clients?

A: What kind of music are you looking for? What is your style? What is your budget? Explain your project.

Q: What's the biggest misconception about what you do?

A: That I'm a "Sample King" and can only do tracks with samples.

Q: What questions do customers most commonly ask you? What's your answer?

A: "Can you do a track like ......?" My answer: "Of Course!"

Q: What do you like most about your job?

A: I enjoy making music.

Q: What's your 'promise' to your clients?

A: Quality. I promise to provide quality production.

Q: Analog or digital and why?

A: Digital, with analog warmth.

Q: Tell us about a project you worked on you are especially proud of and why. What was your role?

A: I'm proud of all of my work.

Q: Describe the most common type of work you do for your clients.

A: Music production for artists looking for industry-ready tracks and mixing/mastering services.

Q: Is there anyone on SoundBetter you know and would recommend to your clients?

A: Daniel Church. He's an amazing singer and songwriter.

Q: What are you working on at the moment?

A: Building my production stockpile for 2020/2021
close
World-class music and production talent at your fingertips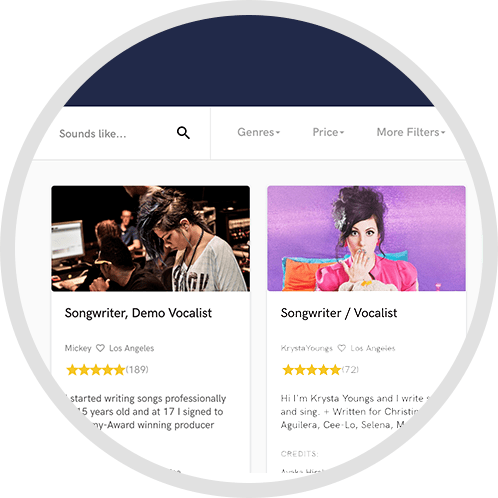 Browse Curated Pros
Search by credits or 'sounds like' and check out audio samples and verified reviews of top pros.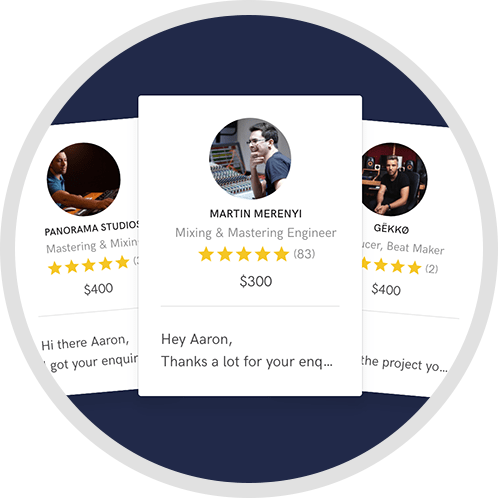 Get Free Proposals
Contact pros directly with your project details and receive handcrafted proposals and budgets in a flash.
Make Amazing Music
Fund and work on your project through our secure platform. Payment is only released when work is complete.