I am like very few other rock singers out there and I'll tell you why: I sing for the SONG no matter what and have a wide variety of styles and colors besides Rock to pull from, thus keeping the vocal fresh and interesting at all times. Very integrated and soulful approach for the song when needed. I'm excited to take your song to the next level!
I am a PROFESSIONAL ROCK VOCALIST and I work primarily as a session (studio) singer, having performed on over 250 songs on over 20 albums. I have achieved international acclaim as a singer together with my rock band OUTLOUD, and in the country of Greece (where the other members are based), touring the country multiple times (as well as other locations in Europe), appearing on national TV there and also on the cover of Metal Hammer magazine multiple times, the country's largest rock publication. I'm also the lead vocalist for the Punky Meadows Band (the guitar player from the popular 70's rock band ANGEL), of which our debut album "Fallen Angel" came in on Billboard at #6 on the New Artist chart and #136 on the Top 200 in 2016.
Additionally, I have been named Best Unsigned Artist in Starcentral Magazine (an Australian publication) and featured on the home page of popular music-based social media site ReverbNation. My album "Road Not Taken" with NJ-based group Iron Bridge Band received a Grammy consideration for Best Rock Album for 2013.
I also work as a performer at high-society private events in the NYC area and beyond, having performed for Donald Trump and many others, such as Rod Stewart, Woody Allen, Dan Ackroyd, Lorne Michaels, Chevy Chase, et. al., performing on over 500 gigs.
Send me an email through 'Contact' button above and I'll get back to you asap.
Credits
42 Reviews - 9 Repeat Clients
Endorse CHANDLER MOGEL
I've said it before & I'll say it again. If you want the best you have to get the best & Chandler is by far the best singer and composer you can get. He takes my lyrics and turns them into full production songs that are ready for airplay and I couldn't be happier. You get what you pay for and Chandler is the one you want for the perfect vocal sounds as well as his quick replies to all my questions whenever I have them. Will never settle for anyone else because I found the best there is!! Thanks!

Chandler has delivered high quality vocals for a rock cover song I am working on. I am very pleased with the result! Highly recommended.

Chandler is the most creative vocalist I have ever worked with. He brings his experience of being in a rock band & lead singer into my projects. He takes my lyrics & sometime my rough draft of the music and creates his own version that makes my songs more than I ever imagined. I give him total creativity to do what he does best & he has never come close to failing my expectations in any way. If your looking for the best Chandler's who you want.

He reply's to any question is very quickly too!

Working with Chandler is like a dream come true. His vocals & creativity are something that you have to experience to really appreciate the music & style he has to offer. He has done 3 songs for me & is working on the 4th and will be doing more. If I could put my songs on SoundBetter for you to hear how well they turned out I would but not sure if it's something I can do. You will not have to look anywhere else for the a great vocalist just be prepared for a lot more than you expected!!

Chandler is the vocalist you want if your looking for that voice that puts your song at the highest point it can get. He is very quick to respond to any questions and always has your best interest in mind. he will be the vocalist for all my songs as I continue to write and I highly recommend him to give your song the quality you need and want. Great guy and couldn't be happier!!!

Chandler is definitely the vocalist you want for your songs!! Great communication through the entire process and knows how to make the difference from a demo song to a professional recorded song!!

Thanks Chandler and we will definitely be doing more work!

No need to look any further if you're looking for the perfect rock vocalist to bring your song alive. I will certainly be doing more work with Chandler as I move on through my journey of writing lyrics and make music!!

Great rock singing as usual! fast response! Will absolutely come back for more! Thanks Chandler.

Chandler is THE singer to hire if you need a highly versatile singer with an excellent range and with the chops to pull off pretty much any song you throw at him. Highly recommended!!

This review is for songwriting providing lyrics, vocal melodies, and a demo quality vocal track to use as a reference. Chandler delivered great lyrics and vocal melodies for my music/song. Great communication and flexibility on the track. This is my second experience with Chandler and he is one of the best out there!

As always, another great-sounding track from Chandler. Went beyond what I expected he could do!!

Chandler is a true professional and easy to work with. He really make your song come alive! I will definitely write more songs for him to sing.

An amazing singer always on point!

Thank you Chandler for another master vocal performance! Delivered fast with powerful yet soulful rock vocals and great adlibs. Very professional. I would recommend anyone to work with Chandler!

Another song, another great job by Chandler! He really went the extra mile to make this song sound great. Once again, I commend him for his professionalism and communication skills. A true pro!

Very grateful to Chandler for helping me out with an unusual job - took it in his stride and did a great job of it, too - the mark of a true professional!

Another job very well done by Chandler. This guys is top notch both in his professionalism and his musicianship!!

Great job by Chandler - I needed a rock parody and Chandler showed that as well as having a great voice, he's also got a sense of humour! Very reliable professional.

Chandler is a fantastic singer! Great recording. True professional. Delivered in a timely manner. Exactly the sound I needed. Was a pleasure to work with.

As you can tell from his samples, Chandler is a superbly talented vocalist. Working with him was fantastic--he is a top-notch professional!

Really nice rock vocals, channelling Floyd/Deep Purple while keeping it crisp and fresh. Chandler brings confidence, character and professionalism to every commission - another great job!

Another great job from Chandler! Needed a powerfully expressive rock-vocalist to lift a climactic rock ballad and Chandler took it on as confidently as ever. There's a kind of rock-swagger that Chandler is very good at channelling and you always know he'll deliver - thanks again, Chandler!

A great singer and performer, top notch as always!

Another great recording from Chandler - deliciously rich range and tone, convincing expression; really brought this song to life - thanks again!

Chandler is professional and delivers a fantastic performance for my rock tune! Very easy to work with.

Great voice and instantly got the timing and tone right with a great interpretation. Will use again.

check_circle

Verified (Client)

Working with Chandler is always a joy. He has great pitch and always gets it right on the first take. Definitely a Pro !

Chandler is a very gifted and versatile vocalist! He recorded a song for my theatre project and the result exceeded all expectations. He has a brilliant and unique voice! If you need a great vocal performance I highly recommend Chandler. This guy really knows his stuff. He is a true professional! I hope to work with him again in the future.

Chandler is a fantastic vocalist with great attention to detail.

Chandler did a great job, followed instructions well, and was easy to work with.

A tremendously talented Artist!

Chandler is the very definition of a true rocker. He was born with a gifted voice. You know he works hard at everything but makes it look easy

Chandler was very professional and took the vocals seriously. Provided serious quality and has great vocal chops!

Great voice, easy to work with. Very satisfied.

Chandler is a true professional, amazing in every way. Can't say enough good things!!!

Great vocalist with great style. Used before, will use again.

Chandler put his own unique style into this song. I could not be more impressed. Looking forward to bringing my lyrics up to his level so I can do another song with him!

Great vocalist, communication was great and delivered what was asked for. Would recommend and will work with him again!

Chandler delivered stellar vocal tracks and an incredible performance! I could not have found a better vocalist for the melodic rock genre. It was a great experience working with Chandler and he is truly a pro with a voice that rivals anyone in music today. Highly recommended!

Chandler is great to work with. I've recorded him singing many styles and always delivers an excellent product !

Chandler comprises the best part of what Rock and Roll was and adds all the elements of what makes rock and roll great today. A legend in the making
Interview with CHANDLER MOGEL
Q: Tell us about a project you worked on you are especially proud of and why. What was your role?

A: If you like hard rock / heavy metal, please check out a record I did with my good friend, guitarist Stephen Dadaian, and engineer Ethan Bill (who is my engineer on all clients' tracks through here). The band name is PAREIDOLIA and the album is called "Denied Truths". I wrote lyrics and melodies and performed all vocals. This is a great representation of me as a singer and the mix and production is nothing short of awesome IMO !

Q: What are you working on at the moment?

A: I'm working on a full album project for a heavy metal guitar player in Denmark. It sounds HUGE!!!!

Q: Is there anyone on SoundBetter you know and would recommend to your clients?

A: Tommy Kessler for guitar, Boris Ivanov for keyboard & Ethan Bill for music production.

Q: Analog or digital and why?

A: Oooh analog for the warmth for sure. My engineer uses a combination of analog and digital, so clients still get the warmth of analog in the vocal tracks, as they are run through a board. The digital side is mostly for convenience. Most analog users use a mix of analog and digital these days.

Q: What's your 'promise' to your clients?

A: My promise is that I will perform vocals on my client's song(s) to the best of my ability, giving 110% always. Unfortunately I can never promise that they will love it, as music is very subjective - but I hope they will listen to the songs on my profile ahead of time and determine if I'm a good fit for their project.

Q: What do you like most about your job?

A: That it's what I love to do. I'll accept nothing less. I'm driven by the urge to sing, create, and basically make something that will exist forever.

Q: What questions do customers most commonly ask you? What's your answer?

A: Everything they need to know is posted here and on my profile, but sometimes they will ask technical questions, about file delivery, etc. FYI - final stems (dry files) for mixing are normally delivered after the payment is released, for obvious reasons. A reference mix is provided beforehand so the client can hear what has been done and thus approve.

Q: What's the biggest misconception about what you do?

A: Hmmm, probably that guys can't sing high ! A lot of songs I do where the melody is already written, it will be in a lower key than it should, or even in the key that was comfortable for the writer (big mistake). I can sing relatively in any male key so I would advise the client to check out my sample tracks and listen to my range before coming up with the melody - although many times, the melody is already written when they come to me. It's all fine and I will sing whatever they like, but many times I feel a song could benefit more being written in a key that's best for the singer.

Q: What questions do you ask prospective clients?

A: I ask them what their budget and time frame for the project are, I also ask what kind of style they are looking for in the vocal, and if they have any bits of guidance that they want to give me before I start the project. This is important as something could be missed and it could come up after the fact. I always make sure to communicate as much as possible with the client.

Q: What advice do you have for a customer looking to hire a provider like you?

A: Be sure that it's me you want for your song before you hire me. Don't ask me to do free demos. You should be able to tell if I'm a good fit for your music by listening to my samples. I can always provide more if you want.

Q: If you were on a desert island and could take just 5 pieces of gear, what would they be?

A: Well I'm not a gear head, that's my engineer lol. But I would take CDs lol . Which ones? That would be super tough . It would take me a year to decide !

Q: What was your career path? How long have you been doing this?

A: This is it ! I'm a full time professional singer for over 10 years now. Nothing else I would rather do. I do a lot of studio work on Soundbetter and elsewhere, and I also perform at many live gigs in the NYC area and all over the world year round.

Q: How would you describe your style?

A: As I mentioned earlier, I'm a rock singer by trade - from the "purist" school of rock singers lol - very melodic and clean , but still rock. Can add some rasp when needed, but don't have natural rasp. I can sing in pretty much whatever key you need. Everything I sing is in full (chest) voice, and falsetto is used only for color - never for a cop out :)

Q: Which artist would you like to work with and why?

A: That's a good question - probably Deep Purple - I would love to front them and get them back to their hey day :) They have always been one of my favorite bands!

Q: Can you share one music production tip?

A: Always make sure you get good clean takes. Get the best possible performance you can for every part of the song. Make sure that you (or your engineer) are well versed in the DAW you are using and also PRODUCE the singer, don't just let him do his own thing and "fix everything later". Don't just hit the space bar. Run the session. You as the engineer have a responsibility to do that if there is not another party producing the track (as these days, there usually isn't).

Q: What type of music do you usually work on?

A: Well I'm usually doing rock, but can perform all styles well. I've done a wide variety of things, even children's songs! Clients should feel totally comfortable in my versatility.

Q: What's your strongest skill?

A: Singing is definitely it :) I also like to pride myself in customer service, as I am very good at communication and with people. This can apply to any job, especially jobs like these. It's all about what the client wants and needs.

Q: What do you bring to a song?

A: I sing for the SONG no matter what and have a wide variety of styles and colors besides Rock to pull from, thus keeping the vocal fresh and interesting at all times. I bring a very integrated and soulful approach for the song when needed.

Q: What's your typical work process?

A: Like I mentioned above, I work with a pro engineer out of a pro studio. We go over and over the song until we get the best possible takes for pitch, time, tone, and delivery. Then the client is sent a vocal reference mix mp3 for approval. If they like it , then they are sent the stems (dry files) of the vocals. Minor revisions are allowed but limited and 9 times out of 10, not needed. I also can provide the client with 3 takes of each part , in lieu of one take and reference mix, if they prefer.

Q: Tell us about your studio setup.

A: I work with a professional engineer (one of the best in the business) to get the best possible takes / tracks for my client. This is what the basic set up is : DAW: Pro Tools 10 HD / Mac Pro / Digidesign 192 i/o / Vocal Mic: Shure SM7b So clients actually get two sets of professional ears on their music when they hire me :)

Q: What other musicians or music production professionals inspire you?

A: I'm inspired by a lot of 70's hard rock singers - such as Glenn Hughes, David Coverdale, Joe Lynn Turner, etc. I really love the funk and soul bands of the 70's as well, even though I'm a rock singer by trade - I'm very influenced by stuff like Tower of Power, Hall & Oates, Stevie Wonder, etc.

Q: Describe the most common type of work you do for your clients.

A: Well, the most common job I guess are when someone has a track with lyrics and melody already written and they just want me to put vocals to it. But sometimes they want me to write the lyrics and melody, or sometimes they have lyrics and just want the melody, so I perform that service as well.
close
World-class music and production talent at your fingertips
Browse Curated Pros
Search by credits or 'sounds like' and check out audio samples and verified reviews of top pros.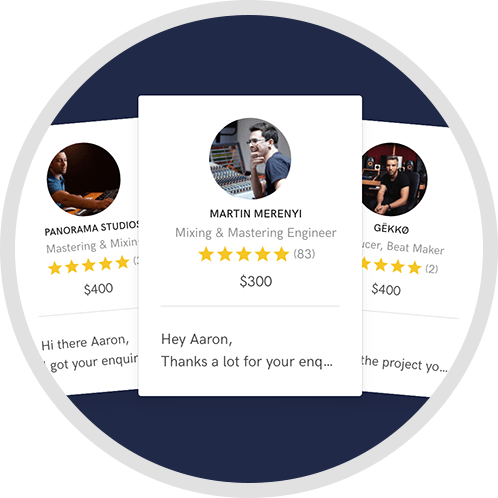 Get Free Proposals
Contact pros directly with your project details and receive handcrafted proposals and budgets in a flash.
Make Amazing Music
Fund and work on your project through our secure platform. Payment is only released when work is complete.