Professional music artist, vocalist and writer with many TV placements (Vampire Diaries/Pretty little liars etc) and EDM features including a top 3 single on the BBC radio 1 dance charts (2015) and a number 1 pop song in Russia (2014)
I am an artist and writer signed to Sony ATV working on music for major TV shows and movies. I do a few different sounds outside of my main artist project (RAIGN). I am looking for new collaborations in the following genre's:
Dark/Epic cinematic/anthemic vocal music - ie Lorde - Everybody wants to rule the world / RAIGN - Knocking on heaven's door
Uptempo driving emotional songs with a rock feel - ie X Ambassadors - Safe and sound
swampy evangelical or conflict based songs- ie the theme tune for True blood or Sons of anarchy
uptempo hipster band sounding pop slanting songs with positive concepts - of Monsters and Men or the song for the Microsoft tablet campaign or just about any t-mobile commercial etc
Anthemic and inspirational pop songs - Katie Pery - Rise / Sia - I'm Alive
Straight Guitar vocal modern folk songs with a dark emotional vibe - Johnny cash - Hurt.
Please get in touch!
I also sing on EDM tracks for a fee so if you are a DJ needing a vocalist please hit me up! unfortunately I cannot allow my vocals to be bought on a work for hire agreement (unless its internal demo use only) and cannot write songs without gaining publishing.
Send me a note through the contact button above.
Credits
Interview with Artist, Vocalist, Songwriter
Q: If you were on a desert island and could take just 5 pieces of gear, what would they be?

A: no point. desert island. no electricity! lol

Q: What was your career path? How long have you been doing this?

A: 2000: Waitress....manager....2006: unemployed....fledgling guitarist...2007: wedding band singer....2008: professional vocalist....demo singer....2011: professional writer in LA and first cuts on third party albums....2012: First official release as an artist.....2013: first major TV placement as an artist... 2015: first top ten charting release in the UK as an artist / featured artist... 2016:...first official music video plays on MTV.....and I meet you

Q: Which artist would you like to work with and why?

A: Bob Dylan or John Lennon

Q: Describe the most common type of work you do for your clients.

A: Writing and recording songs for TV shows, Recording vocals for DJs Recording vocals for demos for a variety of producers around the word Performing live

Q: Can you share one music production tip?

A: Don't get wrapped up in perfection its impossible. It's never finished so just stop when it works. Dont kill yourself doing 10 versions, stick to the authentic vibe of the song, anything else is a remix.

Q: What type of music do you usually work on?

A: Alt pop, EDM, Dance, Rock, Licencing

Q: What do you bring to a song?

A: Power, dynamics, emotion, large range, unique tone. I sound in the lane of artists like, Florence and the machine, Sia, adele, lady gaga and Amy Winehouse. I cannot sound like Britney or Selena Gomez no matter how hard I try lol.

Q: What's your typical work process?

A: It will take me roughly a week to get your first comp back to you. I can record doubles and BVs. Once I have recorded it, I will not re do tone for free, only any mistakes I have made. Please be clear with your vocal references

Q: Tell us about your studio setup.

A: I have a MacBook pro with Logic studio X software. I cannot tune, I cannot vocaline. I can record and comp I have an SM7B and an Apogie Duet.

Q: What other musicians or music production professionals inspire you?

A: Florence and the Machine, Lana Del Rey, David Bowie, Bob Dylan, Ellie Goulding, Fred Falke, MJ, Pink Floyd, Oasis, Drum and bass
close
World-class music and production talent at your fingertips
Browse Curated Pros
Search by credits or 'sounds like' and check out audio samples and verified reviews of top pros.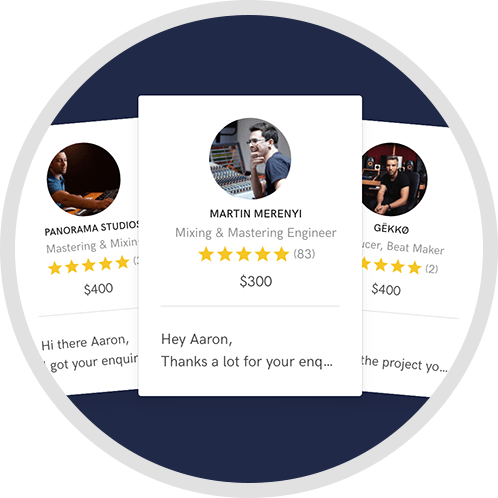 Get Free Proposals
Contact pros directly with your project details and receive handcrafted proposals and budgets in a flash.
Make Amazing Music
Fund and work on your project through our secure platform. Payment is only released when work is complete.