A truly prolific composer, producer and multi-instrumentalist based out of recording studio in London UK with exceptional and sensitive writing and people skills.Has had worldwide hits, scores Film and TV documentaries, music used in TV shows around the world. Working with some of the greatest names in modern music production.
Hi I'm Simon, a producer and songwriter/arranger. Comfortable with many styles, my specialist areas are in rock and acoustic/folk productions, classic and modern. Please don't come to me if you need EDM, Techno etc!
I have exceptional song writing skills and work fast and efficiently to help write with you and bring your songs to life whilst listening to what you need. I believe that every experience of collaboration should be inspiring and unforgettable. I can help with music, lyrics, complete arrangements to build around your tune, all instruments including guitars, bass, synths, orchestration.
I have studio in London and work with many other great musicians and studio set ups so can handle small to large projects. I'm more than happy to work remotely. Best thing is to get in touch and have a chat and let me see where and how I can help.
I began as an artist signed to RCA Records and BMG publishing, during which time I worked with many great producers, co-producing my work with them, learning and exchanging ideas along the way. That interest in production ran equal to my performing career. I then helped set up Wendyhouse Studios, London, working with my principle writing partner Jerry Meehan, mentoring and working with new artists. Alongside that, working on soundtracks for TV and Film as well as working extensively with all the major production music houses.
Send me a note through the contact button above.
Credits
7 Reviews
Endorse Simon E
Simon is an excellent songwriter and composer. Whenever I work with him what impresses me is his intuitive sense of what's needed musically and his ability to add what is often a simple stroke of genius to the project. He gives his all to make sure you're happy with the final output.

Simon composed the original music for the documentary 'Decadence and Downfall: The Shah of Iran's Ultimate Party'. He was a joy to work with (as he has been on every project). As well as having great ideas of his own, Simon patiently listens to everyone else's, filters out the bad ones and always improves on the better ones. If you're looking for a collaborator with sensitivity and an understanding of narrative, i can't recommend him more highly.

I worked with Simon many years ago on an album project with Rolling Stones producer Chris Kimsey. Simon's a hugely talented guy, good to have around the studio, full of ideas, a great songwriter too... loved working with him, hopefully again at some stage! A true individual voice and rare talent.

I have worked with Simon in many environments and contexts, Simon consistently delivers, as a producer realising the artists full potential and expanding on their strengths to get the best results is at the forefront of his formula for success.
One of the most talented songwriters I know he is an excellent guide & mentor, always achieving excellence in the finished product..
He is a visionary with a purity and integrity about his process that makes him a rare diamond in the rough in this industry

The stamp of 100% pure quality runs through everything Simon does, whether it be his masterful song writing, film composition, sound production, guitar playing or his wonderful haunting vocals. His music captures the authentic spirit of whatever style he chooses to work in be it folk, world, pop or soundtracks, and the guy can rock too! I am more than happy to recommend him for any potential project in whatever capacity, you won't be disappointed.

Having closely worked with and knowing him as a friend for decades, Simon has never done anything but astound me with his talent and clear-headed approach to making wonderful and beautiful music. Never relying on the 'expected' or 'normal' he is quirky, interesting, vital and learned. Even after all this time, hearing his songs, I still get goosebumps and excitement when his work comes on my iPhone shuffle! His intelligent and professional ideas about his work and other projects are perfectly balanced with his genuine skills and lover of music as a true troubadour, a songwriter first and last.

Consumate professional with superb attention to detail, always giving space to my extra demands! Simon did a complete soundtrack for a documentary commissoned by my company including numerous scores and original tracks. I couldn't have asked for anything more, he went over and above the brief and delivered more than anything we were expecting. Highly recommended.
Interview with Simon E
Q: Can you share one music production tip?

A: Go for simplicity. Let the song and the vocal shine through and build the track around it. don't clutter with two many idea. Think of the tracks you love-they might have one distinctive sound in there you always remember. Not 5, just one. With so much technology at our fingertips we have to sometimes consciously remind ourselves to just go back to the simple.

Q: What type of music do you usually work on?

A: I love classic styles, acoustic rock or folk, melodic pop and rock, psychedelia is also a favourite, and sometimes bringing in touches of different genres, cross relating them.

Q: What's your strongest skill?

A: Understanding people, listening to what they want even if they are not sure themselves, seeing beyond what you are immediately presented with. Allowing people to express themselves fully, because that's where the real joy of making music is. Feeling that you have really expressed who you are or what you wanted to get done. There is no better feeling.

Q: What do you bring to a song?

A: Music, structure, form. I love to hear where the beautiful bits of the song are and bring them out, develop them, maybe edit things down a bit and concentrate on the strengths. Listen to the lyrics or help with them, again try and accentuate the strengths, help with a discerning editing process, bring out the imagery, the importance of evoking pictures in the listener's mind. Allow the production to compliment and not interfere with the track. Songwriting to me is quite a holy process in a way, such a beautiful process, allowing things to happen, making the space for them.

Q: Tell us about your studio setup.

A: Well I used to be a real gear head and had a lot of vintage outboard gear, EAR compressors, Neve, Altec, Klein and Hummell. I loved this stuff! But as i can became more mobile I downsized and now, because of the improvements in digital technology, for the first time I feel my current set up is as good, and as 'earthy' as my pld one. For this I have to credit two companies, UAD and Acustica. I have a UAD Apollo interface which sounds fantastic. I still keep hold of a lot of my old vintage synths. Mic wise I'm enjoying the Aston products which compliment my Neumann collection. And I have my trusted NS10s still with me.

Q: What other musicians or music production professionals inspire you?

A: Right now Kevin Parker from Tame Impala inspires me because there is so much kinship in the way that he works. I love his attention to sound sculpting and everything he does sonically is kind of where I am at. I have a love of psychedelia and his forward thinking approach opens up new territories that are endlessly fascinating. I am also really enjoying the work that John Parish has done with Aldous Harding and would say that this is my most favorite album of the last couple of years. It is in one way simple acoustic music but there are beautiful subtle twists that turn it away from the norm and compliment her distinctive voice and songwriting.

Q: Describe the most common type of work you do for your clients.

A: Recently I've done two full soundtracks for a couple of BBC film length documentaries, meaning a huge variety of styles from single songs to orchestrated recordings, Persian music, modern classical. Really inspiring to stretch yourself in these ways. Mostly I specialise in classic pop/rock/folk productions, writing is my greatest strength alongside producing up full backing tracks. Everything basically. I don't drum! But I programme them very well and have a fantastic network of some of the top musicians in London to call upon when the occasion demands.
close
World-class music and production talent at your fingertips
Browse Curated Pros
Search by credits or 'sounds like' and check out audio samples and verified reviews of top pros.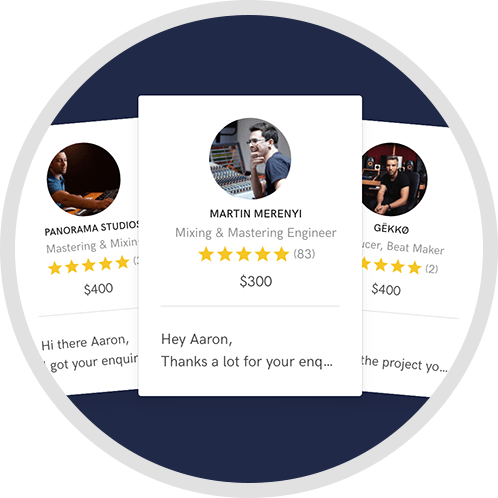 Get Free Proposals
Contact pros directly with your project details and receive handcrafted proposals and budgets in a flash.
Make Amazing Music
Fund and work on your project through our secure platform. Payment is only released when work is complete.