Hey, we're Trakk Stars! A commercial music production trio with branches in the Midwest and LA. We believe everyone gets farther with teamwork and three heads are better than one. With very different, very extensive musical backgrounds; Evan Scott, Josh Petit and Mark Scoma can put the right touch on any project.
We tend to soak in all things music related.. It's just who we are! Our bread and butter is music production and beat making, but we're also really good at: recording/engineering in our fully functional studios, co-writing, music publishing, video/photo services, and artist development.
Tell me about your project and how I can help, through the 'Contact' button above.
Credits
Interview with Trakk Stars
Q: Tell us about a project you worked on you are especially proud of and why. What was your role?

A: We just did some unexpected ADR work for an upcoming feature film not too long ago. We recorded voice overs of the actors in our studio for parts of the movie that the original audio was unusable.

Q: What are you working on at the moment?

A: Upbeat inspiring love songs for our publishing company. we have clients that actively search our music library for background music for their video/commercial projects.

Q: Is there anyone on SoundBetter you know and would recommend to your clients?

A: We have not met anyone here yet, but we'd like to.

Q: Analog or digital and why?

A: A calculated mixture of both. Analog brings a certain warmth and familiarity, but digital is new and exciting. the combination of both is key.

Q: What's your 'promise' to your clients?

A: We promise to give our clients the best of our abilities and to do everything in our power to make the song in your head, the song that you hear when were finished.

Q: What do you like most about your job?

A: We work in the music business! Its definitely not easy, but were passionate about great music and that alone makes it the best job ever.

Q: What do you bring to a song?

A: As a team, we bring everything but the kitchen sink.

Q: What's your typical work process?

A: I usually start in on a song for a good 7 hours straight creating, fixing and molding it. Bounce it out, take a step back for a day or 2 while I listen for things that need changed or bigger and better ideas. Tweak, and repeat until satisfied.

Q: Tell us about your studio setup.

A: We have a studio in Hollywood, California and one in Omaha, Nebraska. The Hollywood Studio is a small but quaint recording/mixing studio. Omaha has 2 separate recording/production stations and a video/ photo production studio in the basement.

Q: What other musicians or music production professionals inspire you?

A: Dave Pensado

Q: Describe the most common type of work you do for your clients.

A: We do the whole package on a regular basis. From the very concept of a song, through the writing and production process, to the final mix down and beyond.
close
World-class music and production talent at your fingertips
Browse Curated Pros
Search by credits or 'sounds like' and check out audio samples and verified reviews of top pros.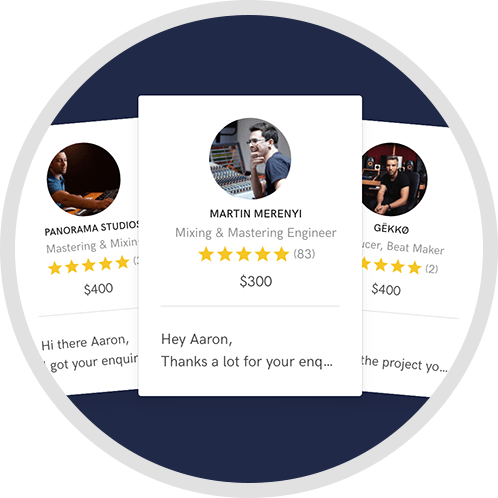 Get Free Proposals
Contact pros directly with your project details and receive handcrafted proposals and budgets in a flash.
Make Amazing Music
Fund and work on your project through our secure platform. Payment is only released when work is complete.