I'm a mainstream country music songwriter, whose original music has been featured on national television. I've opened in concert for country music superstars like Loretta Lynn and Montgomery Gentry, and I've shared the stage with modern songwriters like Gary Hannan and Lacy Green.
I have been writing original country music for 16 years, inspired by classic country melodies like Hank Williams and The Carter Family, powerful female vocalists like Martina McBride and Faith Hill, and carefully-crafted lyrics like Lori Mckenna and Shane McNally. My original songs have been compared to Chris Stapleton and Kacey Musgraves.
If you are a country music recording artist searching for a hit song, I can provide the melody and lyrics you're looking for. Once you've put your vocals on one of my original songs, send the demo to a top-notch producer to get the modern Nashville sound you hear on today's country radio.
I'd love to hear about your project. Click the 'Contact' button above to get in touch.
Credits
3 Reviews - 1 Repeat Client
Endorse Becca Rae
She is an awesome musician and great lover of what she does...enjoying working with her continuously! Went away from her comfort zone and still delivered the best :)))

Becca, Is just Awesome to the Core... Looking forward to work with her again and again and again :) haha...! i am just in love with her work

I hired Becca for a ghostwriting job. The lyrics she wrote were fine and would work great for the song if she was the artist, however, as I was paying almost double for this to be a ghostwriting job, I was hoping the produced lyrics would have suited my own writing style a bit better; I'm not sure if she listened to my prior work. But your mileage may vary, of course - so give her a go!
close
World-class music and production talent at your fingertips
Browse Curated Pros
Search by credits or 'sounds like' and check out audio samples and verified reviews of top pros.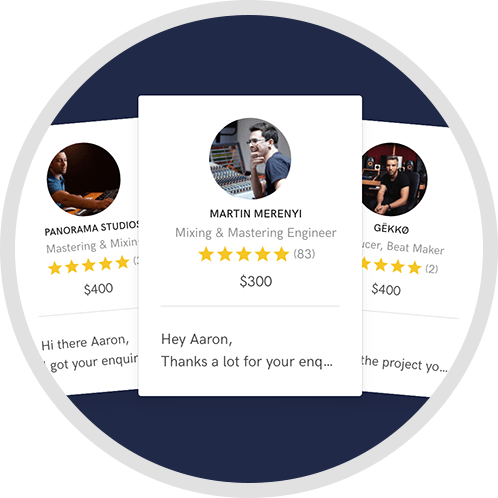 Get Free Proposals
Contact pros directly with your project details and receive handcrafted proposals and budgets in a flash.
Make Amazing Music
Fund and work on your project through our secure platform. Payment is only released when work is complete.