Audio Engineer based in Clifton, NJ specializing in Mixing and Editing. Also an experienced Producer/Beat Maker. Shoot me an email detailing your project needs and I will get back to you.
Would love to hear from you. Click the contact button above to get in touch.
Credits
Interview with Chris Sacco
Q: Is there anyone on SoundBetter you know and would recommend to your clients?

A: Darren Vermaas. Incredible talent for tracking, mixing and mastering.

Q: Analog or digital and why?

A: Both! It all depends on the project.

Q: What's the biggest misconception about what you do?

A: That mixing can fix a bad recording.

Q: How would you describe your style?

A: My style is very organic

Q: What type of music do you usually work on?

A: Jazz, Hip Hop, Folk, Rock

Q: What's your typical work process?

A: I begin by finding out the wants/needs/vision of the client for their project. Then I'll take a listen to the record a couple times and then begin my mixing from there.

Q: Tell us about your studio setup.

A: I do most of my work out of my home studio Pro Tools setup.

Q: Describe the most common type of work you do for your clients.

A: The most common work I do is Mixing and Editing.
close
World-class music and production talent at your fingertips
Browse Curated Pros
Search by credits or 'sounds like' and check out audio samples and verified reviews of top pros.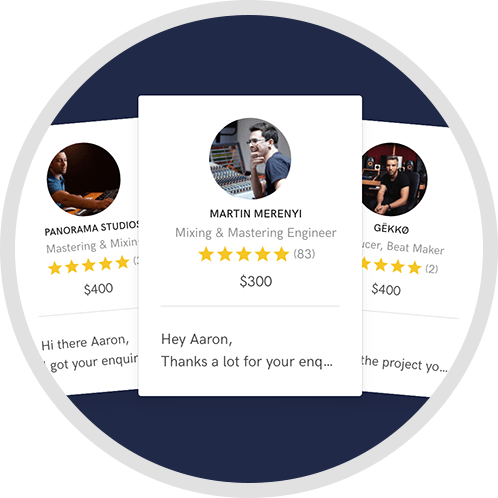 Get Free Proposals
Contact pros directly with your project details and receive handcrafted proposals and budgets in a flash.
Make Amazing Music
Fund and work on your project through our secure platform. Payment is only released when work is complete.