I've been at this for 20yrs+, have worked with the likes of producers Garth Richardson, John Feldmann, Josh Wilbur, etc. All genres welcome, understood and appreciated!
I offer a full range of music and studio services! I can help you with everything from basic mixing to full production and writing. I'm a multi-instrumentalist, programmer and vocalist and I've been cracking away in my own studio for 15 years. Need detailed editing? No sweat! Want an amazing outboard master with your mix? Done! Need help with an arrangement or instrumentation? I've got you covered! I work comfortably in just about any genre, from film scores to country, metal to hip-hop. I've had the fortune of collaborating and learning from some of the best in the business and every single project I work on gets the utmost attention and dedication. I take pride in what comes out of my studio each and every time. Let's talk and see what I can do for you and your music!!!
Send me a note through the contact button above.
Credits
3 Reviews
Endorse Shawn Zuzek
If you're looking for that one person who gets your sound and delivers time and time again, look no further. Shawn Zuzek rules. I've worked with him for 15 years. He listens and communicates very well. He's mixed, mastered, and even done some post-production work on numerous recordings for me and my band and we are always thrilled with the end result. Hugeness with clarity. No matter how our sound changes, Shawn knows how to evolve with us. It means everything to have someone on the back end who can make your music shine like you know it should.

Ive worked with Shawn for the better part of 10 years on my productions as well as those of my clients. He inspired me to become fully committed to audio production and I now have opened a commercial studio. Whether is be drum programming, song writing, engineering or mixing, I can always count on Shawn to provide me with the results I am looking for. Its rare for a musician/engineer to be a "all arounder" but Shawn excels at almost any music/production situation you throw at him. Highly recommended.

Recording the past 20 years I've worked in tons of studios with many producers/engineers. Never able to find the right combo of sounds/energy mixing/mastering for my recordings, Until I found Shawn. I've worked with Shawn for 15 years. 2 full length albums, 2 EP's, numerous singles Mixed/Mastered & some engineered by Shawn. He can build a song from scratch or just add the finishing touches, A 1 stop shop. He shares his knowledge & delivers EVERY single time we give him a project. I highly recommend Shawn for any part of the process from Start to Finish! Cregg-Today the Moon,Tomorrow the Sun
Interview with Shawn Zuzek
Q: What are you working on at the moment?

A: I'm in the middle of digital production/programming for a regular client out of LA, and mixing for a client in Atlanta. I'm also writing new tracks for other pop-artists, and always building my personal library of songs and trailer placements.

Q: Analog or digital and why?

A: Both! Analog will never be matched regardless of "modeling technology" or whatever. It just won't, period, the end - there's a color to working analog that will never be faithfully duplicated. On the other hand, digital allows you to be hyper-real. You can stack insane amounts of plug-ins, or automate crazy effects - you name it - things you could never do with an outboard rack. I definitely reach for both because of exactly that.

Q: What's your 'promise' to your clients?

A: That I will dedicate myself entirely to getting them the best results. It's your song, but my name is on the mix and I take pride in what I do. I've certainly had to change directions on a mix because a client wasn't feeling this or that, but at the end of the day, everyone I've worked with has been really happy. My promise is to do everything I can to keep that streak going!

Q: What do you like most about your job?

A: I love making artists excited! I love delivering results that they never expected. I love the balance of art and science. Mixing relies a lot on creativity and a lot on just plain physics. It's such a cool balance of knowing that rules can apply, and also having the opportunity to break all those rules just because. It's a lot like writing in that sense and when you can strike the balance, sometimes magic happens.

Q: What's the biggest misconception about what you do?

A: That it should be cheap and easy! Finding a great mix/master engineer that you trust and that hears your music the right way is a challenge. Lots of guys can fire up ProTools and EZ Mix and use presets on all your tracks without any love or care, but it takes a lot of craft - and some investment - to breathe life into a mix. Not everyone can do that, let alone even know what that means, and it's worth paying for when you find it.

Q: What questions do you ask prospective clients?

A: Since I'm mostly getting tracks that someone else recorded, I try to get a feel for how everything was engineered. I'll often help a client get their tracks sorted and delivered properly, that way they know how to deliver to an outside engineer in the future. Obviously we'll rap about the sonics of their project, what their inspirations and goals are, that sort of thing.

Q: What advice do you have for a customer looking to hire a provider like you?

A: Don't get stars in your eyes because your engineer has shiny stuff! Listen to their work, and trust your gut when they talk to you (if they talk to you). If you're comfortable handing your music to them, then go for it. If you're working with them because their resume is flashy or their studio is hip, you run a good chance of barking up the wrong tree and being disappointed with the end result.

Q: What was your career path? How long have you been doing this?

A: I'm a lifelong musician (started classically at 7) and a writer. I've been recording for 25 years, and mixing and mastering professionally for 15. It's been my entire life pretty much!

Q: How would you describe your style?

A: I like saturation and color, so I tend to lean hard on my pre's and comps. I certainly know when to soften it up, but if I had a "style" it might be a little aggressive. I like every little sound and texture to have its own space, even if the listener doesn't know it's there...

Q: Which artist would you like to work with and why?

A: A million of them, but Trent Reznor is probably the holy grail. He's informed my use of sound design and texture in music since I was in middle school, and I think it would be the single greatest learning experience I could have. Less a "work with" and more a "learn from"!

Q: Can you share one music production tip?

A: Train your ears and trust your gut!!! I know a lot of people with more gear and nicer rooms than I've got, but their results aren't as good. Gear, plug-ins, money - whatever - will never be a substitute for just knowing how something should sound. That means listening to a ton of music, and then getting your hands dirty and using your ears to build what your brain is telling you it wants.

Q: What type of music do you usually work on?

A: Hard rock is most common, but one of my main clients is very indie, sometimes electro-based. I've written, mixed and mastered in a slew of different genres though, so even though I'm a "metal guy" I know I can deliver in a variety of soundscapes.

Q: What's your strongest skill?

A: Relationships and building trust are big ones for me. I've been a writer and artist for 25yrs+, so my biggest win is getting an artist who's never worked with an outside engineer and getting them to a comfortable and trusting place. Their craft is in my hands and they've put it there willingly - my number one priority is keeping it safe and blowing their minds with the end result. I have a ton of return customers because of this.

Q: What do you bring to a song?

A: The goal is to bring whatever the artist needs and wants for the song. I don't aim for a single contribution per se, other than making it my best work regardless of genre, or artistic decisions. At the end of the day, if the artist gets their mix and never imagined it sounding so right - well, that's what I always try to bring!

Q: What's your typical work process?

A: It depends on the project, of course, but overall I let the tracks I'm working with to "tell me" what they need. If I'm working an acoustic ballad, I'm gonna listen to the kick, for example - and that raw kick track is going to say all sorts of things by itself. That's when I start sculpting. The goal is to get that kick, or any other instrument, to speak to all the other tracks until you've got a whole, cohesive language. I could talk frequncies and compressor settings all day, but it's really a matter of listening intently first...

Q: Tell us about your studio setup.

A: It's a project studio, but it's dialed in. I use Logic exclusively. Mostly I'm set up for mixing, mastering and software production. I tend to work in the box even though I have a few choice pieces of outboard gear that I reach for always. I'm a big fan of Vintech so those are always somewhere in the chain. I have more plug-ins and sample libraries than I can keep track of, so there's never a shortage of tools and inspiration!

Q: What other musicians or music production professionals inspire you?

A: I just had the opportunity to work with John Feldmann in LA and it was a huge inspiration and learning experience. He's so quick on his feet and dialed in to what a song needs next. Trent Reznor has been a major impact on me. I did an album with Garth Richardson where I was the artist and he taught me the bulk of the tricks I use today. I'm also listening to a lot of what Kurt Ballou has been putting out...

Q: Describe the most common type of work you do for your clients.

A: Mixing and added production are the bulk of my work. Most of my clients are out-of-state, and some are international, so it consists a lot of getting files from their sessions and just mixing what's there, or getting the session and adding lots of layers and textures as the mix progresses.
close
World-class music and production talent at your fingertips
Browse Curated Pros
Search by credits or 'sounds like' and check out audio samples and verified reviews of top pros.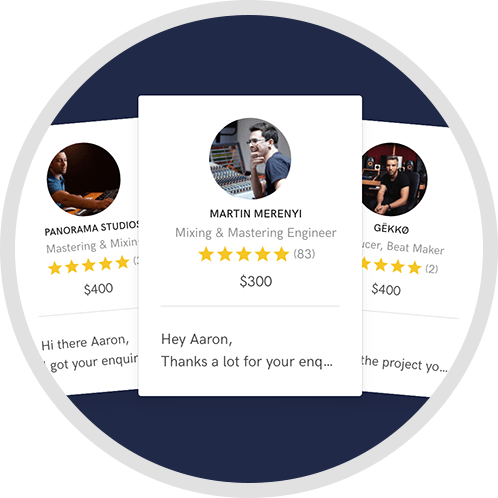 Get Free Proposals
Contact pros directly with your project details and receive handcrafted proposals and budgets in a flash.
Make Amazing Music
Fund and work on your project through our secure platform. Payment is only released when work is complete.