I am an audio recording and mixing engineer/ Technician who moved to sunny Hollywood from New York City last february to become a personal Engineer for Chris Lord-Alge. Now my focus is changing to more of a mixing background. So I am looking for a steadier job to keep me stable while I build a portfolio.
Over the past 7 years I have been working in various positions in all forms of audio production with many major establishments as an Audio Maintains Technician and Freelance Tracking/Mixing Engineer in the New York City and Los Angeles area, including; Mix LA, Red Bull Studios New York, Fox News/Fox Business Networks, Jungle City Studios and Stadium Red Studios in New York city.
In addition, I've worked as an Independent Freelance Engineer and assistant for many of the major acts in the music industry including; G.O.O.D. Music, Kanye West, Just Blaze, Nas, 2-Chains, Mac Miller, Alchemist and many more.
I am fluent in many different Digital Audio Workstations (DAWs) such as Pro Tools, Logic, Live, etc. as well as many other digital console platforms like the Yamaha LS-9, Yamaha 02R, Sony DMX R-100, SSL Duality, SSL E/G 4000, SSL 9000 and API 1608. I have experience as an A2 for the Fox Business and Fox News Networks as well as live music mixing for broadcast.
Would love to hear from you. Click the contact button above to get in touch.
close
World-class music and production talent at your fingertips
Browse Curated Pros
Search by credits or 'sounds like' and check out audio samples and verified reviews of top pros.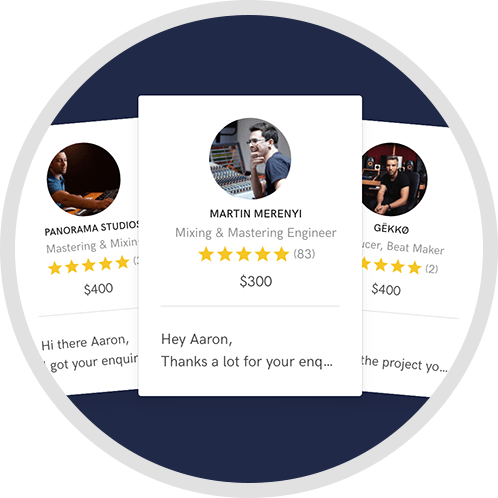 Get Free Proposals
Contact pros directly with your project details and receive handcrafted proposals and budgets in a flash.
Make Amazing Music
Fund and work on your project through our secure platform. Payment is only released when work is complete.