Ryan "RyGuy" Stockbridge
Hit Song Maker!
Producer/Songwriter/Engineer - HBO, Ingrid Michaelson, Vic Mensa, BJ the Chicago Kid, SZA, Ally Brooke, Joey Bada$$, James Fauntleroy, Rance 1500 and more...
I'm a Los Angeles based music producer, song writer, and audio engineer. I've worked with a lot of big names & networks and want to bring what I've learned from them, to you! Nothing makes me happier than helping people manifest their ideas and I want to work side-by-side with your vision to create something awesome!
The song on this profile "Pull You Down", was written, produced, performed, and co-mixed and mastered by me. If you'd like to hear more songs, please contact me and I'll be happy to send some along.
I'd love to hear about your project. Click the 'Contact' button above to get in touch.
Credits
Interview with Ryan "RyGuy" Stockbridge
Q: Tell us about a project you worked on you are especially proud of and why. What was your role?

A: Most recently I worked on scoring a 10 episode audio drama called Bronzeville starring Laurence Fishburne and Lorenz Tate. It was downloaded over 3.5 million times and was such a pleasure to work on. I'm also working on developing a few artists that I'm really excited about releasing.

Q: What are you working on at the moment?

A: Right now, I'm working on my own project. I spend a lot of time on other people's projects and I'm excited to put out something new for myself.

Q: Is there anyone on SoundBetter you know and would recommend to your clients?

A: My buddy Calvin is also on here and is a dope writer and move-maker. You can find him here: https://soundbetter.com/profiles/29825-cal

Q: Analog or digital and why?

A: Both. Analog tubes sound like analog tubes. You can drive them and saturate the hell out of sounds to make them huge. But digital gear sounds tight too. I use a Roland JD-XA that is analog and digital synthesis and that opens doors to different wave shapes and sounds. Everything has it's place. There's crap analog and digital gear.

Q: What's your 'promise' to your clients?

A: I will not settle for something I don't fully believe in. If there's anything I hear that we can improve on, we have to atleast try it.

Q: What do you like most about your job?

A: The thing I like most about my job is doing different things everyday. I could be in the same room with the same gear, but the songs I'm working on are always different.

Q: What questions do customers most commonly ask you? What's your answer?

A: "When can you have this done by?" haha

Q: What's the biggest misconception about what you do?

A: The biggest misconception is that you can make anything sound good. It is true that there are lots of tools to improve less-than-perfect performances, but there is no substitute for well produced music and a great singer.

Q: What questions do you ask prospective clients?

A: What have you not done, that you've aways been wanting to try?

Q: What advice do you have for a customer looking to hire a provider like you?

A: Be open. Sometimes the coolest songs happen when you're trying something new. Respect the creative process and most importantly, have fun!

Q: If you were on a desert island and could take just 5 pieces of gear, what would they be?

A: Assuming power was no object: MacBook Pro, Apollo Twin, Focal Monitors, Midi Controller, and an SM7 (to take the weather, not have to worry about replacing tubes, and not have to carry around a heavy tube pre.)

Q: What was your career path? How long have you been doing this?

A: I starting making music and playing in bands at 13. My dad used to have Fruity Loops 3 or something and I was fascinated by making computer music. I'm a total nerd and love computers so this was a big spark for me. I found love in guitar, drums, bass, and keys later in life. I was also in school concert and marching bands playing drums. I went to college to studio audio engineering in Boston. I dropped out and moved to LA with a friend to pursue a music career. We got in contact with 1500 or Nothin shortly after and signed with them as artists. We got a publishing deal with Peer Music shortly after that. Over the last 6 years I've been working with anyone I can and have been privileged enough to work with some more popular artists/brands.

Q: How would you describe your style?

A: Open. Big. Loud. Intriguing. Creative.

Q: Which artist would you like to work with and why?

A: The artist I'd like to work with most, at this present moment in time, is you! Nah but seriously, probably Calvin Harris. or Khalid. But that's just what I'm into right now.

Q: Can you share one music production tip?

A: The one thing that has taken me so long to figure out is that LESS IS MORE. Let one thing say many things. After you cover all the bases harmonically, focus on getting the fullness and texture out of the sounds themselves. When you have fewer great elements, you can get them to be loud, proud, and in your face. Too often people try to make things sound "big" by piling on layers, when they could make the actual part better and get that one sound to sound huge.

Q: What type of music do you usually work on?

A: Most of the music I work on is Pop. Pop is kind of a vague umbrella that dips in and out of different genres and styles, but most importantly it's music that's in a format to include as many peoples' tastes as possible.

Q: What's your strongest skill?

A: My strongest skill is being a team player. There's so many aspects to finishing a song and sometimes I'm in the booth on the front line, and other times I'm just a cheerleader trying to keep the vibe in the room up. I do believe in staying in your lane, but I also think it's important to be willing and able to fill and empty lane if necessary.

Q: What do you bring to a song?

A: When it comes to production and songwriting, I'm not afraid to be completely myself and try new ideas. Sometimes it doesn't always work, but I'm willing to be a little bit different and that makes the records sound unique.

Q: What's your typical work process?

A: My work process is always different. I'm involved in all of the aspects of making songs so it depends on what my job is and what I have to do to make the song awesome.

Q: Tell us about your studio setup.

A: My setup is pretty portable. I like to keep it small as I travel a lot and want to be able to make music wherever I go. MacBook Pro, Akai MPK Mini, Sennheiser headphones, Apollo Twin, and an SM7. That's all I really need to make decent demos. When I do actual sessions, I work out of 1500 or Nothin/Labren Studios in Inglewood California. Here's a link to the studio's website: https://www.1500ornothin.com/facilities

Q: What other musicians or music production professionals inspire you?

A: My biggest inspiration are my friends. I have so much respect for the people I work with because I'm constantly learning to ways to do things and being introduced to new situations. Shout out to 1500 or Nothin, they've taught me a lot of what I know.

Q: Describe the most common type of work you do for your clients.

A: The most common type of work is pop/EDM songs. I love when clients give me the opportunity to producer their vocals and try fun things that they may have never done before. I also play guitar and often find myself doing sessions work when people what to add a "live" element to their tracks.
close
World-class music and production talent at your fingertips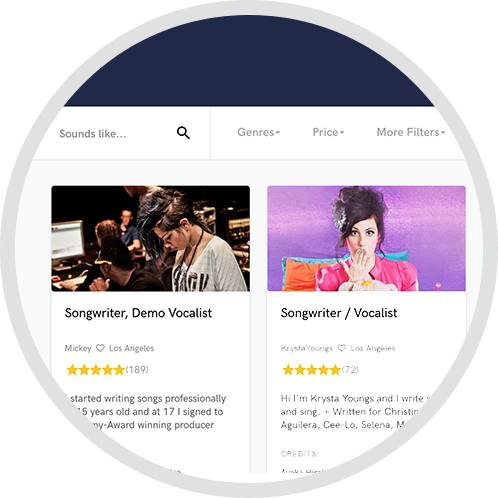 Browse Curated Pros
Search by credits or 'sounds like' and check out audio samples and verified reviews of top pros.
Get Free Proposals
Contact pros directly with your project details and receive handcrafted proposals and budgets in a flash.
Make Amazing Music
Fund and work on your project through our secure platform. Payment is only released when work is complete.