I have been composing, songwriting, and producing music for over 13 years. I have programmed beats and instrumentals for the mexican singer Lucero, been a musician in a few bands and songwrite/compose for upcoming artists around the US. I specialize in Pop/Urban Pop/RnB/Hip Hop/EDM
I am offering to create productions around songs written, songwriting, and produce album/music/beats for any type of artist or client.
Click the 'Contact' above to get in touch. Looking forward to hearing from you.
Credits
Interview with Eric Hannon
Q: Which artist would you like to work with and why?

A: Justin Bieber or Jessie J. I feel like both of those artists would challenge me and help me grow as a music producer but I also think I can offer them something that stands out without straying from their sound.

Q: Can you share one music production tip?

A: when you are writing the music focus on the music alone, worry about mixing/extra sound design after the song is finished. Once you hop on that vibe wave you gotta ride it out or else you might not catch another break to bring that song to shore.

Q: What type of music do you usually work on?

A: I usually write pop, urban, rnb/soul, and hip hop with edm kind of intertwined through all of that.

Q: What's your strongest skill?

A: working fast and working reliably. 12 hours was spent on the 3 Lucero songs I programmed on and it was my first time writing on top of Latin Pop music.

Q: What do you bring to a song?

A: i bring my own style as I do not listen to a lot of music except to see where the current trends are. I bring originality as much as I can.

Q: What's your typical work process?

A: It's about 4 hours for me to get a solid arrangement and pre-production going and then I bring the stems up into pro tools to finish the rest of the production/try vocal melodies/mix the track etc

Q: Tell us about your studio setup.

A: my studio is geared more towards groove production and songwriting rather than tracking. I use Maschine studio along with a Yamaha moXF6 workstation and softsynths for the majority of my work.

Q: What other musicians or music production professionals inspire you?

A: quincy jones, busby, Josh Alexander, the weeknd, Jessie j

Q: Describe the most common type of work you do for your clients.

A: Beat programming, music production, songwriting, session keyboard/synth
close
World-class music and production talent at your fingertips
Browse Curated Pros
Search by credits or 'sounds like' and check out audio samples and verified reviews of top pros.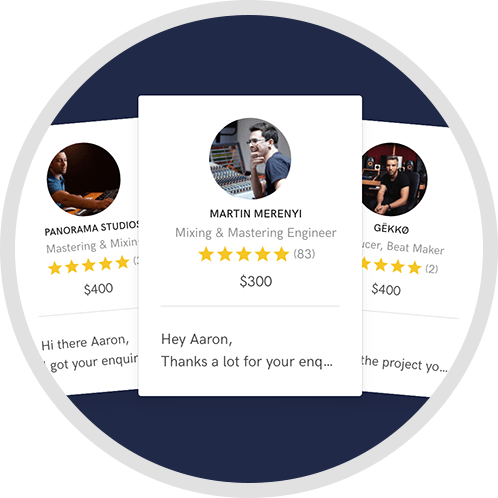 Get Free Proposals
Contact pros directly with your project details and receive handcrafted proposals and budgets in a flash.
Make Amazing Music
Fund and work on your project through our secure platform. Payment is only released when work is complete.