Andrew Felluss is a sound engineer, music producer & founder of MusicNetwork.org Since 1994, he has engineered for top studios in midtown, including Right Track Recording, Quad Recording, & Baby Monster. He is based at RedBird Studio, a midtown recording studio & writing room established in 2004. Sample Discography: Ray Charles, Lola Johnson, Jay Z
Andrew Felluss is a sound engineer, music producer, and media professional based in New York City. Born and raised in Washington, DC, Andrew was inspired at a young age by the power of music to unite people, and sought after a career making it. While focused on music production, Andrew's professional trajectory crosses television, film, radio, politics, human-rights and other disciplines. Towards unification of activity and purpose, Andrew has founded musicnetwork.org as a crossmedia solution.
While beginning musical studies on guitar, Andrew has focused most of his craftwork on live recording, arranging and record production, and apprenticing with legendary producers & engineers including Phil Ramone, Frank Filipetti, Arif Mardin, Dave O'Donnell, Eric Schilling, Rob Eaton and Lou Gonzales. Andrew studied Sound Engineering at Columbia College Chicago, and is a firm proponent of the "learn by doing" approach.
In 2005, Andrew setup his recording gear in a small Times Square office, to create an affordable studio for client bookings and record production. Now at its third Midtown location, RedBird Studio is a 24-7 recording studio operation with a capacity for ensemble recording, mixing & mastering, while still affordable to independent musicians.
Send me an email through 'Contact' button above and I'll get back to you asap.
close
World-class music and production talent at your fingertips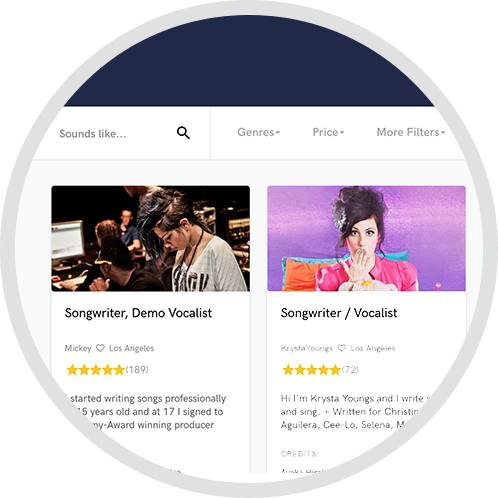 Browse Curated Pros
Search by credits or 'sounds like' and check out audio samples and verified reviews of top pros.
Get Free Proposals
Contact pros directly with your project details and receive handcrafted proposals and budgets in a flash.
Make Amazing Music
Fund and work on your project through our secure platform. Payment is only released when work is complete.